Which Car to Buy - Petrol or Diesel?
Modified On Oct 15, 2015 08:22 PM By CarDekho
5235 Views

Write a comment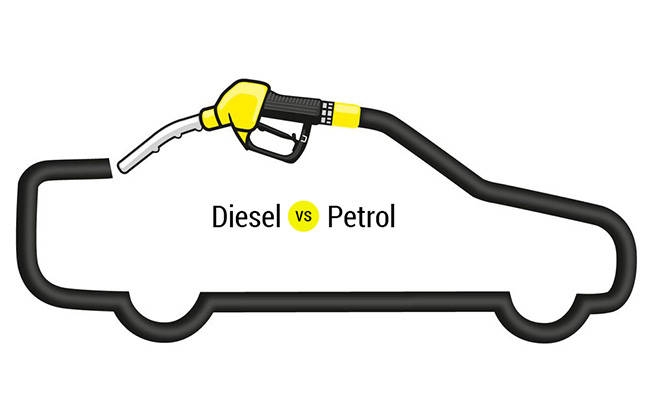 Petrol engines are generally thought to be smoother than diesels, though with the implication of latest technologies this perception has changed. The current level of diesel engines have been improved drastically over the past decade and smaller capacity diesel are quite prevalent now and are comparatively smoother than before.
Petrol cars are considered better than diesels as petrol fuel ignites at a much lower temperature than diesel fuel so power delivery is much more linear, especially in naturally aspirated ones. But, the latest diesel engines have matched them up with the implication of turbochargers that make them refined and fuel efficient.
Choosing between these two engines could get simpler if we take into consideration our daily requirements. The following are some parameters to do so.

Price difference
Diesel variant are generally costlier if we consider a price bracket of around 5 to 15 lacs. Though, this is not an attribute to compare as modern petrol cars with the implication of turbochargers and direct injection technology are equally costly as their diesel counterparts.
Although, if we compare Swift petrol with its diesel variant we will see a price difference of about a lac, this is because the petrol version is naturally aspirated while the diesel is turbocharged and gets a few more complex bits that are absent in the petrol motor. Also, in India, we have to give an additional tax on diesel vehicles.
Average monthly running
Diesel would definitely save money and make sense if you commute over long distances. However, petrol cars are cheaper to buy initially and are more rewarding in the city premises. Petrol car should be fine for an annual run of 10000-12000 kms, but if it is more than that, diesels is the way to go.
Fuel cost
The day since the Government has deregularised the diesel prices, the gap between the two fuel types has diminished. If price per litre is to be taken into consideration, buying a petrol car seems to be more beneficial option now. As in the 5 to 15 lac bracket the diesel vehicles are considerably pricier than petrol counterparts and the the difference between the prices of the two fuels isn't much.

Other Factors
Some other considerations:
Diesel cars are studied to have better resale value as compared to the equivalent Petrol cars.
Cost of servicing and spare parts is higher for diesel cars than petrol ones.
Noise, vibration and harshness levels of diesel cars are higher than that of petrol cars.

Which one to Buy?
Buy a diesel model
If monthly run is estimated to be around 1,500-2,000 km
When the price difference is around Rs. 50-60,000
If you often go for long distance drives
Buy a petrol model
If the monthly run is estimated to be less than 1,500 km
When the price difference is around Rs. 1 lac
You are going to use it for short city drive and seldom go for long distance drives
Was this article helpful ?
0 out of 0 found this helpful