Top 6 Features Not To Miss Out On When Buying Your First Car
Published On Jul 29, 2016 05:46 PM By CarDekho
823651 Views

Write a comment
Today's cars come packed with features to keep buyers happy. These could be to do with increasing comfort levels, reducing driver fatigue, keeping occupants safe, entertained, etc. Sometimes, budget constraints mean that you have to sacrifice some features which you would not (ideally) want to let go of, like airbags. That said, here are some features that we think are a must-have and should not be compromised on when buying a car, especially if it's your first, and even if you are on a budget.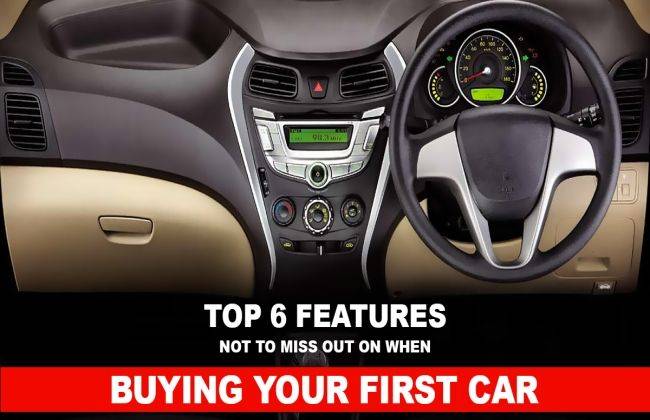 1. ABS and Airbags

The ABS or Anti-lock Braking System is a safety feature that ensures that your car's brakes do not lock up when braking hard; while the airbag is a protective cushion mounted inside the car, which inflates in case of a crash to protect the occupants from serious injury. A number of studies have shown that ABS and airbags are vital features that help save lives. Besides, the government has also decided to make these mandatory for all cars soon as a result of which many manufacturers have already started offering them across variants. However, as of now base-variant owners still get left out some cases. So, if your budget can accommodate them, we would highly recommend these features for the safety of your family.
2. Rear Parking Sensors/Camera and Sensors

Parking has become a big hassle, thanks to the sheer number of vehicles on our roads. This has not only reduced the number of parking spaces, but also ensured that any spots available would be tight. Even the slightest of errors while reverse parking in and out of such spots can result in your car (or another's) getting scratched. However, if you use rear parking sensors/camera and sensors (whichever your budget allows), the chances of error come down drastically. These help by either warning you about any obstruction or showing you the same while you reverse park into a spot. Since you do not get a designated spot to park your car in everywhere you go, this is a must-have feature, especially if you are planning to buy a big car or even a hatch with limited view of the rear such as the Mercedes-Benz A-Class.
3. Central locking system

People go to great lengths to ensure that their car does not get stolen. One of the tools that help with the safety of cars is a central locking system. Car manufacturers equip most of their models with this feature, a simple locking system with increased levels of complexity as one opts for higher trims. However, the ones purchasing the base trim of a car may get left out altogether. This does not lessen the importance of the central locking system since it can be the difference between deterring thieves from stealing your car and driving away with it whenever you are not watching over it. Central locking systems can also help you locate your vehicle in busy parking lots using the remote key fob.
4. In-car entertainment system with Bluetooth

Most carmakers now offer stereo systems with Bluetooth functionality that allow you to make/answer calls and play music hands-free. This lets you avoid the hassle of pulling over to the side to attend an important call. Bluetooth systems also allow you to pair your smartphone and use Google Maps to get voice-prompted turn-by-turn directions. In case you do not get a factory-fitted system, try buying one from the aftermarket provided it doesn't affect your vehicle's warranty.
5. Power Windows

Power Windows is a feature that saves driver fatigue by helping him/her open or close the window without requiring much physical effort. A lot of cars on the market today come with power windows for driver and co-driver seats only with rear power windows on higher variants. Do check whether the car you are buying has power windows for only front seats or rear seats as well. It would be advisable to have power windows for both front and back.
6. Adjustable ORVMs

Outside Rear View Mirrors or ORVMs are more or less a standard feature in cars these days. However, some carmakers offer only a driver-side mirror in their base variant. Prefer to buy a car with rear-view mirrors on both driver and passenger side. If they are adjustable electrically great; if not, see if they come with stalks for manual adjustment.
Also, while you may consider getting one or more of these features installed from the aftermarket, do ensure it does not void your car's warranty. Do consider the price difference between the various variants of the car you are about to buy. If the difference between trims is not much and higher trim has some of the features the lower one does not, do consider buying that instead. After all factory-fitted equipment does not void your car's warranty.
Of course, while the features contained in this list may be essential to some, it may not be as important to some others. So do let us know in comments below which features you think are an absolute must-have when buying a new car.
Was this article helpful ?
0 out of 0 found this helpful