Five Questions to ask a Dealer Before Saying 'Yes'
Modified On Oct 04, 2012 03:38 PM By CarDekho
Any time someone decides to purchase a new car, they end up spending quite a lot of time and energy making sure they have the perfect car for themselves in terms of looks, performance, finance, etc. and rightly so. Buying a new car is often a painful procedure but well worth the efforts considering you will be using the vehicle day-in, day-out.
Now once all the creases are evened out and you have decided to finalise your purchase, you tend to relax and go ahead with the purchase when the salesperson smiles that charming smile and asks, "So, we have a deal?" Now, before you shake his hand and answer in the affirmative, take a minute to ask the salesperson these 5 questions that are a must to ensure you will be paying a legitimate amount of money and not a Rupee more. Not only will these questions reveal any surprise land mines in your deal but will also allow you to use a bit of last minute leverage to pinch an additional discount or service.
These 5 questions are your way of making sure that there will be no problems that will waste all the time and effort you put into the deal when you sign the contract. So before you shake hands and say "Deal" to the salesperson, take a minute to review these questions.
1."Will I be charged extra fees for anything?"
So far you have haggled and negotiated down the price of the car. However you aren't out of the woods yet. What you have probably negotiated is the price of the car itself; in addition to this, the dealership will charge you extra for taxes, documentation, registry costs, etc. Now some of these are legitimate charges whereas others may be questionable. Dealerships will often try to lure the unsuspecting customer into paying extra in some departments to convert into profits for themselves. The best way to avoid this is by simply asking them for detailed information on exactly what extra charges will be applicable on your purchase and then validating them before you go ahead and sign the contracts.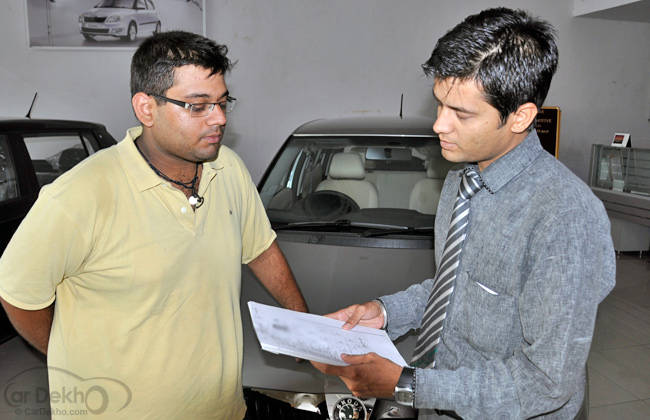 2."What are your documentation fee charges?"
Almost every dealership will charge you a documentation fee to fill out the necessary paperwork for your contract on your purchase. While this may seem strange to few, it is actually universal and comes under legitimate charges. What you may not know however is that different dealerships have different charges for this. While some dealers may charge you as little as Rs. 4,000, others can charge you up to Rs. 10,000 just for all your paperwork and contract forms. Quite often this difference in price is simply a way for the dealer to increase his profits by adding to the charges. That way they can make you happy by giving you an extra discount on the car and then adding that discount cost to the documentation fee to retain profits. Now once you find out exactly what you will be charged for the paperwork, make a quick check weather you find it reasonable or not. If not then haggle with the salesperson over the charges and if he refuses to bring it down, tell him you will take your business elsewhere. In all probability the salesperson will stop you and bring down the price since you have already indicated you will be making a purchase.

3."Have you installed any after market parts in the car and will I be charged for them?"
Regardless of the model or trim, almost all cars come from the factory with certain parts and features. These are called 'stock options' within the car and differ from model to model and trim to trim. Sometimes however dealerships will add certain after-market parts or options to enhance sales and profits. While the factory parts and options have fixed charges that are included in your cars costs, the after-market parts and options added by the dealer will cost you extra. Often the salesperson may not inform you about such parts and charge you for them without your knowledge. By the time you find out you have paid extra for 'seat covers' you thought were part of the car, it may be too late as you have already singed the contract. To avoid such scenarios, ask the salesperson to clearly inform you regarding any after- market parts or options they have added. If you find they have indeed done such a thing, consider weather or not you would like to have this part in your car and how much it will cost you. If you decide you don't, ask them to either remove it or allocate a car without the addition.

4."How many kilometres is the car driven?"
Surprised by the question? Of course you are. Most people directly assume that buying a new car always means a reading of 0 on the odometer. This however is not always the case. Every car will have a few kilometres on it because of the distance it may have travelled from the factory/car lot to the dealership. That is not a problem since it usually a minimum number. What you need to watch out for is if you are being sold a car that may have been used by the dealership as a test-drive car. In some cases it may even be a "dealer-trade" which means that the dealer may have traded it with another car from some other dealer. This is particularly important for online shoppers who may not get a chance to inspect the car until it arrives at the destination. Ask the salesperson what the reading on the odometer is and if it is more than 500 kilometres on the odometer then ask him to either reduce the price or to get you another car.

5."Will you deliver the car or can I drive it directly from the lot? Is the car in your lot?"
The first question is great for online shoppers. If you've decided to go ahead with the purchase but haven't actually said yes to the deal, you could ask this question to get a last little bonus out of the deal. This way you can say something like "Sure, we have a deal if you're willing to deliver the car." That way you avoid the hassle of going down to the dealership and waiting while the car is cleaned and put through the routine check-ups etc. You also avoid the 'pitches' by the insurance and finance people there.

The second question is an important one to make sure you don't get deceived by the salesperson. Lets say you decided you don't like the colour of the car the salesperson has shown you and ask him to give you an alternative blue. The salesperson will definitely respond with a "Sure, we can get you one in blue." Now before you go thinking about how accommodating the salesperson is, take a moment and ask him if the car in question is at their lot right now or not. Quite often a dealer will trade a car with another to accommodate a customer, however this may increase the price or time of delivery.
Well, now you know the five questions you need to ask before saying 'deal' to the salesperson. We at CarDekho hope you find this information helpful the next time you make a purchase at a dealership. Happy hunting!
Photography By - Sitaram Swami
Was this article helpful ?
0 out of 0 found this helpful