CarDekho's Exclusive Services For Used Car Buyers
Modified On May 31, 2016 12:05 PM By CarDekho
So you have narrowed down on your choice of used car? Great! It's time now to make payment and zip off in your dream car. But what if you have trouble arranging money upfront? Perhaps, you are still concerned about the used car being completely free of defects. What if it breaks down or develops others issues such as a flat tyre – something that's inevitable and can occur any time. Don't worry, help is at hand. At CarDekho, you get a host of services that help you get around these problems and ensure a tension-free used car buying and ownership experience. These include:
Used car loan
Used car certification and warranty
Roadside assistance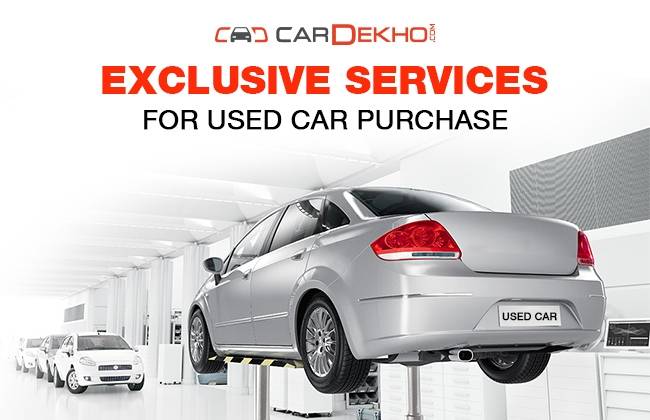 Used Car Loan
Taking a used car loan becomes imperative if an all-cash purchase is not feasible. When you buy through CarDekho, we guide you not just in making the right used car choice, but also in finding you the best loan. Here's what all you can count us on as your trusted advisor:

Compare quotes from multiple banks: We have as many as seven major banks partnering with us to offer you the best interest rates for your purchase. Choose the one that suits you best.
Reduced processing time: We understand that waiting can be a great botheration and have, hence, devised a way to reduce loan processing time to just 5 days.
Don't come to us, we will come to you: Our representative will collect all the necessary documents from your doorstep so you won't even have to step out of the house.
Get your money back and win rewards as well: What's more! You can even get up to 100 per cent waiver of processing fees and free vouchers from Amazon on getting onboard with us.

Used Car Certification & Warranty
Opting for a certified used car from CarDekho ensures a virtually fault-free purchase. That's because we have a dedicated CarDekho Trustmark channel that undertakes as many as 217 multi-point checks before giving a clean sheet to a used car. The checks are extensive and conducted by qualified technical personnel. Physical inspection aside, we also do checks to ensure that the car has a clean, accident-free record. To find a certified used car, you can either go online and search for a TrustMark car in your vicinity or head to a used car dealership and look for the 'CarDekho TrustMark' sticker on the car.
Once you have satisfied yourself of having picked a reliable, certified used car, it's essential to get a warranty to avoid unnecessary expenses in case a defect occurs. You can choose from two packages – the first covers only engine and transmission while the other is a comprehensive coverage. With CarDekho's warranty, here's what all you stand to gain:
Warranty coverage beginning same day: Coverage begins the moment you sign on the papers
24X7 road assistance: Claim anytime, anywhere
Free vehicle condition report: Includes an in-depth report of all the 217 checks done in the car along with details of the vehicle's standard features
Minimum time-lag assistance: to keep you from waiting too long
Goodwill claims: Often, the warranty cover is extended to parts not covered as well, as a goodwill gesture to our customers.
Road Side Assistance (RSA)
Tyre puncture, mechanical failure, dead battery, heating problems and other issues often come without any warnings. What's worse is when you are caught in such situations in the night or at a place without any repair shop nearby. This is where CarDekho's Road Side Assistance (RSA) comes to your rescue. Our services are tailor-made to your comfort and include India's first 24X7 concierge support. Check out the 10 RSA services on offer:
1. Assistance on the go: Feel free to avail this service anytime of the day (24X7) for on-the-spot assistance and repair. Our team of trained representatives will assist you in case of a breakdown.
2. Towing facility: In case a car needs repair and cannot be fixed at the site of inspection, we will tow the vehicle to the nearest authorised workshop as per your RSA plan. It ranges from 40km-100km and a tow truck or flat-bed truck will be sent depending upon the plan opted.
3. Flat tyre fix: Now, who hasn't faced a flat tyre situation before? This is one of the most common issues that drivers face. Our expert technicians will replace the flat tyre with your vehicle's spare. In case you are not carrying a spare, we will take the tyre to the nearest puncture repair shop and get it fixed.
4. Jumpstart dead battery: We also provide support to jumpstart your car in case the battery is discharged or is completely dead.
5. Car locked or lost keys: Lost your car keys or locked them inside the car? Our lockout experts will help you 24X7 support.
6. Fuel refill: Ran out of fuel with no fuel pump nearby? We are there to help with immediate refilling of 5 litres of fuel (charged separately). This service can be availed anytime and anywhere.
7. Call support: With our in-house call support there by your side 24X7, you are never driving alone. Call us anytime you need a question answered.
8. Free cab facility: If your vehicle needs towing due to a breakdown, we will arrange a cab to get you to a convenient spot free of cost (covers cab fare of up to Rs. 1500).
9. Hotel accommodation: If you get stuck somewhere on the outskirts of the city or at an unfamiliar location, we can even make hotel arrangements for your stay. All efforts are done to make the booking at the earliest for your convenience.
10. Medical support: We will contact and arrange help from the nearest clinic/hospital in case a medical emergency arises due to a breakdown.
All of the additional services mentioned above are aimed at making your buying and ownership experience a smooth, hassle-free affair. It is in our interest to ensure that your money is spent on a used car that runs trouble-free but if it doesn't, you can always rely on us and know that we are around to take care of the problem.
Was this article helpful ?
0 out of 0 found this helpful