5 Reasons Why You Should Buy a Used Car
Modified On May 10, 2016 12:31 PM By Aman
The auto industry is changing rapidly and car prices are only going up. So to speak, new cars are getting costlier each year, making them a very high value purchase for the common man. And quite ironically, the average life span of a car is going down despite the steady rise in prices, which brings in good news for potential used car buyers! Thanks to manufacturers launching newer versions of their models sooner now as compared to a few years ago, more and more modern cars are now entering the used car market, which makes it easy for you to make a good buy without having to bust your wallet.
A used car in fact makes more sense for first time buyers upgrading from two-wheelers or public transportation, or for that matter, someone looking to buy a second set of wheels in the family. Now here's five reasons clarifying why buying a used car instead of a new car is more sensible.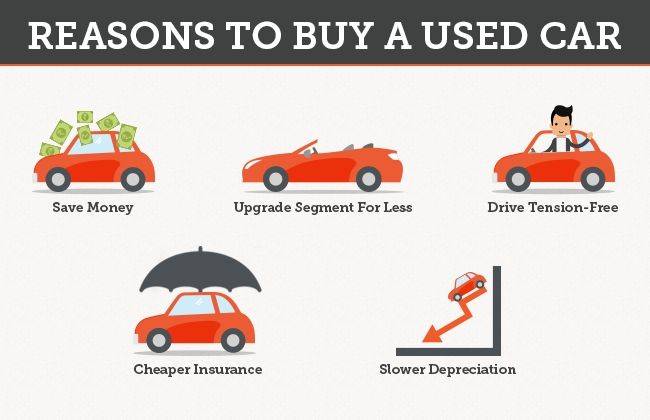 Reason 1: Save money and you can even upgrade your segment
All it takes is less than a minute for a new car, straight out from a showroom, to lose 8-10% of its purchase price as it enters used car territory. Going for used purchase means you have to pay a lot less than the original value of the car (depending on year of manufacture and kilometres done) which means you can save some serious money.
Consider the example of a new Maruti Suzuki Swift Lxi available in New Delhi, costing close to Rs 5, 28,057 on road. Here is the breakup: Ex showroom Rs 4,71,613 + RTO Rs 18,948 + Insurance 17,689 + Other charges Rs. 19,807 = Rs 5,28, 057. Now, considering depreciation, suppose if you go for a 1 year old, same car and model (Swift LXi Delhi) which is roughly driven 12,000 km, it can be yours by paying only Rs 4,15,000/- if you buy from a dealership and Rs 3,85,000/- if buy directly from an individual first owner. You can clearly see the difference that you will be saving when opting for a used car.
Why stop here? In case you have a specific budget in mind, you can even jump a segment and opt for a slightly older car model in the same price-band and get a better car than what you thought of in the first place. Suppose if your budget is around 4 lacs+ and you are considering a year old Maruti Suzuki Swift you can also easily get a 2011 Hyundai i20 Asta (top model) between 3.75 – 4.15 lacs with close to 28,000- 35,000 km done which has a lot of features and is a higher segment car.
Reason 2: Tension free drive 24x7
A used car comes with its own perks. The primary benefit has to be the feeling of driving tension-free, without the jitters of getting that first dent or scratch, something only a brand new car is prone to. You can even take it out for longer journeys as soon as you buy the car, since taking a brand new car out for longer trips before the first service or inspection is something buyers avoid.
Let's understand this better. First, suppose you just bought a brand new Hyundai i10 and the very second day you are asked to travel to a congested part of the city for work. Considering the potential risk of getting dents or scratches, chances are that you might not even take your new car out and choose public transportation instead. Now, consider the same scenario when you just bought the same used car instead. Now, you won't really hesitate much in taking your car through those narrow lanes, would you?
Reason 3: No cheating here, now get certified used cars with warranty
As the auto industry has evolved, the way used cars are sold and purchased has evolved as well. Now, you don't really need to rely on just the verbal assurance of a cunning car salesman, dealer or an individual regarding the used car being perfectly fine. You now have the power of certification at your fingertips! One can easily go online and check for car certifications such as CarDekho Trustmark certified cars, which are meticulously checked by a certified car engineer to make sure your purchase is hassle free. Not just this, you can also get an additional post purchase warranty to ensure that the used car you just bought runs more like a new one!
Reason 4: Slower depreciation means you lose less money
Every car undergoes depreciation but a used car has an upper hand for the same when compared to a new car. It depreciates at a slower rate when compared to a brand new car. Let's find out how: Depreciation of a vehicle is at its peak during the first three years of purchase. When you are buying a used car, you will obviously purchase it at a price which has already gone under major depreciation.
Here is how it generally works:
| | | |
| --- | --- | --- |
| New Maruti Swift LXi | Used Maruti Swift LXi (1 year old) | Depreciation value |
| Rs. 5,28, 057/- (on road price) | Rs 4,15,000/- (on road price) | |
| Rs 4,15,000 (Depreciation = Rs 1,13,057) | Rs 3,59,000/- (Depreciation = Rs 56,000) | After 1 year |
| Rs 3,42,000/- (Depreciation = Rs 73,000) | Rs 2,97,000/- (Depreciation = Rs 62,000) | After 3 years |
Details mentioned above are tentative figures with average car running taken as 12,000 km per year
The difference between the depreciated amounts listed above of a brand new car over 3 years to a used car shows how less your used purchase will lose money over a brand new one.
Reason 5: Insurance is cheaper and you need not pay additional charges
Getting your used car insured will cost you a lot less as compared to a new car. That along with soaring additional taxes and other clauses makes a new car quite expensive. To find out better, consider a breakup below between the ex-showroom price and On The Road (OTR) price of a new car.
Ex-showroom price Maruti Suzuki Swift Lxi New Delhi - Rs. 4,71,613/-
RTO charges - Rs. 18,948/-
Insurance charge - Rs. 17,689/- (1 year insurance)
Essential kit charge - Rs. 2,769/-
Extended warranty charge- Rs. 6,582/-
Handling charges - Rs. 6,000/-
Other charges - Rs. 4,000/-
Auto card charges- Rs. 456/-
---
On The Road Final Price Rs. 5,28,057/-
Going through the numbers above, you will have to shell out around Rs 56,444/- extra for additional charges which includes insurance payment as well of Rs 17,689/- when going for a new purchase. Whereas, getting the insurance done for the same model used car ( 1 year old 12,000 km done) will be around Rs 11,000/- for a period of 1 year which means saving of more than Rs 6,000/-. If you are lucky enough, you can get a used car which is already covered under insurance for a considerable amount of time (say the next 6 months or a year) you need not buy any additional insurance for that time and get it simply transferred to your name.
With considerable amount of savings along with the assurance of certification and warranty, you now get almost all the benefits in a used car that one would expect when buying a new one. Even if you decide to sell it in the future, it won't dent your wallet much by losing less amount of money than a new car would do. Especially for the first timers, a used purchase is more practical and affordable at the same time. Unless you really want the latest car in the market or that new car smell is all you are looking for, a used car can very well cater to almost all types of buyers quite conveniently.
Was this article helpful ?
0 out of 0 found this helpful