The Renault Modus hatchback has been in speculations since last year but finally Renault will be rolling it out pretty soon completing their goal of Five-car plan for India, three out of which have already been launched and the fourth is due in a week's time. The first one was the Renault Fluence sedan followed by the Renault Duster, Pulse hatchback and the soon to launch Scala sedan.
The price of the hatch will be somewhere close to Rs. 4.5 Lakh. This hatch from Renault will be standing against the likes of Hyundai i10, Maruti Suzuki Ritz etc. Under the hood the upcoming Modus might be similar to the Nissan Micra with the 1.2-litre petrol and 1.5-litre dCi K9K engine. The latter of the two engines with tweaks can be seen in the Duster as well delivering 108.5bhp of power. In Micra the 1.5-litre K9K engine delivers 63bhp. The K9K engine is a straight 4turbocharged diesel engines which have been developed by Nissan and Renault together.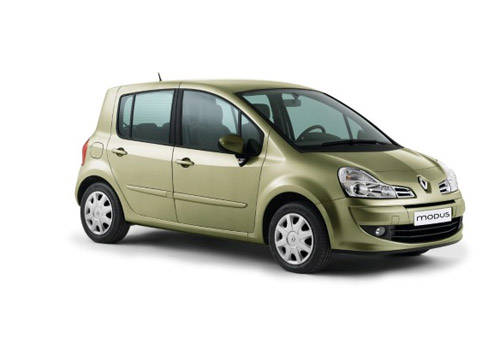 In terms of design, Renault has given the hatch looks that appeal to one, from every angle. Recently the car that was spotted seemed to be the final production model that was taking test rounds around the National Capital, Delhi.
Maybe it's because the French automaker do not want limelight to shift focus from the upcoming sedan Renault Scala, that they are quiet about the hatchback which is expected to roll in, probably early next year.
Watch this place for more details on Renault's further plans in India, we'll keep you updated.
Image Courtesy: Carindia.in
Read More on : click here to read more on Renault Modus