AVOID, AVOID AVOID!!!
Look and StylE FRONT FABIA LOOKS AND SIDE AND REAR VENTO LOOKS, LACKS ORIGINALITY Comfort YOU WONT BE COMFORTABLE ONCE YOU FACE HORRIBLE SKODA SALES EXECUTIVES Pickup AS ITS A VENTO ENGINE SO PICK UP IS GREAT FROM 3RD GEAR. Mileage MIGHT BE A LITTLE BIT BETTER THAN VENTO AS THE WEIGHT OF THE CAR IS BIT LESS Best Features COPIED FROM VENTO. IF U LIKE VENTO U WILL LIKE RAPID. Needs to improve AFTER SALES SERVICE, DONT COPY DESIGNS WORK ON YOUR OWN SKODA Overall Experience DISAPPOINTED. CANCELLED BOOKING. IRRESPONSIBLE STAFF. VERY RUDE BEHAVIOUR.
Write your Comment on Skoda Rapid 2011-2013
1
A
amardeep
Jun 8, 2012 9:25:59 PM
I have just bought Rapid and my exp with the staff has been excellent! Got the delivery in just one day...no waiting and staff was really very courteous. Moreover its an excellent car with superb features.Pickup is the best in class!
Reply
2
V
vijay
Aug 10, 2012 12:48:30 PM
I have bought this car (Ambition tdi) in March'12..They delivered in 15 days.The Car is excellent.It gives me a good mileage of 18 kmpl & i have no complaint regarding wheel balancing..I'm totally satisfied
Reply
3
s
satbir
Aug 18, 2012 7:44:10 PM
Hi Everyone... I am planning to buy Skoda Rapid after much research...have been driving i10 for last 3 years...Not much happy with build quality, ground clearance etc. so don't want to go for Verna Fluidic, which is also costly at the same time...Request genuine Skoda users to advise. going by above comments Vento makes sense but quite obvious it would be costly over Rapid...Pls guide
Reply
1
j
jayakumar
May 14, 2012 9:35:20 AM
I am not too sure of the car at present. I drive a maruti Dzire presently and am happy with it because in the trade off between performance( including very essential features)and affordable cost it is still the best. Iwas looking at skoda since my son has been looking to buy one. I test drove one and found it GOOD. Iagree that after sale service and attitude of Dealer and employees are also important factors influencing the final decision to buy. After going through the above comments I felt that it has been a bit harsh on a good car to have received such a poor review.
Reply
2
r
rahul
May 23, 2012 4:42:02 PM
mr. jayakumar i would only like to say that better safe than sorry...
Reply
1
d
dilshad
May 13, 2012 10:48:40 AM
i used scoda for 7 years.i liked the cars perfomance but not the staff.i want to buy again scoda.but i am afraid of staffs behavior.they r the first persons responsible for scodas bad resale value.i am frm kerala.here marikar agency is dealing.pls change the dealers.for example if v go for small complaints they will bias us and try to charge more by intead of repairing they like to replace.this makes the customer feel its maintaince is too high.if v go with same complaits to local workshop there v will come to know how cruel is scoda peoples
Reply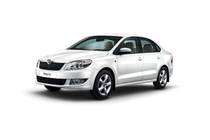 This car model has expired