The Best Car for the people who love speed and comfort with safet...
Look and Style NON MATCHABLE IN ITS CLASS Comfort ENOUGH SPACE FOR 5 Pickup AWESOME. Mileage 20KM/L Best Features lOOKS and comfort the control over car even at the speed of 125 kmph is unbeatable Needs to improve Price needs to be revised Overall Experience wonderfully satisfied I just love this car
Write your Comment on Mitsubishi Lancer
1
y
yogesh sharma
Sep 14, 2015 4:57:21 PM
I love my lancer it is sweet to me whenever I expected from her...love it
Reply
1
s
sid
Mar 4, 2014 12:40:51 AM
I own a Lancer 2005 model which undoubtedly is a beast when it comes to speeding on highways till date. Average after so many years has dropped within the streets, but highways, this devil can take you miles. Just a suggestion to all Lancer owners, the next time you change your engine oil, substitute it with a synthetic oil instead and hear your engine laugh on other cars as it speeds past them. The only changes I have done is the synthetic oil 2 years back and changed after every 9-10 months, 15 alloy rims with Yokohama tyres since 2008. Rest of it needs no change, trust me.
Reply
2
y
yuvaraj
Apr 18, 2014 1:54:09 PM
Dear Sid, I have a plan to buy diesel lancer. I got a deal of variant LX, 2011 model and Odo reading is 25000 Kms, (having some scratches over the body because of city driving) and having 3 inch crack on front glass right corner. Pls advise me about the maintainance duration, cost, spare parts. my mail Id :uvanraja@gmail.com.
Reply
1
s
subash
May 14, 2013 1:05:35 AM
I want a buy a second hand Lancer, can you please tell me what is the best price for a lancer. and also which lancer is better petrol or diesel, Which lancer includes less maintainance cost. Please i need your help
Reply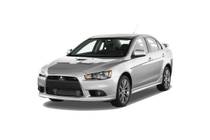 This car model has expired