Best car on Indian roads
Look and Style: its a headturner Comfort: excellent, seats have back support Pickup: average on 1 and 2 gear but after that its a complete different machine Mileage: 13-16 in city and >19 on highways Best Features: everything is best Needs to improve : breakaway from tata motors Overall Experience: excellent have driven the car for 3200K in 2 months....its a gem to deive on highways......great steering feedback.....test drove I20 also..it had pathetic steering response and is expensive...Fiat Punto is value for money....will recommend to all
Write your Comment on Fiat Grande Punto 2009-2013
1
m
manpreet singh
Dec 20, 2012 11:42:18 PM
My experience with Fiat- Tata dealer was not good they always promote their brand Tata never gives fair advice which car to buy . I have to buy diesel hatchback with in 6 lacs. I am confused which to buy i have taken test drive of Punto, new swift , Ritz . Like the drivability of punto but some of my friend told its parts are very costly. so buy maruti because of avalaibility and low maintaince of maruti car . Please suggest me anyone.
Reply
2
P
prashant
Dec 21, 2012 10:03:24 AM
Hi, There is no problem with availability of spares for Punto. Also as you must be knowing that Fiat will be having around 150 dealers by 2013 year end. Parts are not at all costly especially you have 4 years warranty In your range of Rs 6 lac u can go for FigoRitzSwift......If you can afford Punto then go for it........
Reply
3
m
manpreet singh
Dec 21, 2012 12:54:31 PM
Thanks Prashant for giiving me your valuable advice. Definitely in my mind Punto(deisel) is first to buy the Active Model. But if we compare beside driveability of Punto with other cars where Punto stands. For ex Ritz ,figo, Polo,Etios, Micra.
Reply
4
P
prashant
Dec 21, 2012 1:11:46 PM
For city i think Micra and ritz are better...even figo........for Highway and long drives Punto beats them......See Punto has long clutch.....so initially it may feel awkward but u will get used to it....now i find difficult to drive other cars because of small clutch :-) overall its very difficult for me to tell....u have to test drive all these.....compare the features...and see what u want.....i dont want to confuse you...with any bias.......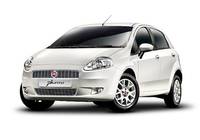 This car model has expired