VEYRON OF MY LIFE
VEYRON OF MY LIFE
The Bugatti Veyron boasts a quite extraordinary set of performance figures. After just 2.46sec its reaches 100kmph, and barely a couple of seconds after that it bursts into three figures. But the thing yoill really struggle to get your head round, the statistic youll be boring your mates with for some years to come, is this. If a Veyron set off from a standing start 10 seconds after a McLaren F1 in which time the F1 will already be travelling at 209kmph - the Bugatti reaches 321kmph at exactly the same time as the F1. Think about that. What there is is noise a peculiar kind of signature that sounds a bit like two TVR Griffiths on full reheat plus an industrial-strength air hose, all at once. And to accompany this cacophony there is mind-bending, heart-stopping acceleration the like of which has never been felt before in a road car. ABOUT HANDLING AND HANDLING Out onto the road and, lets face it, everything else you do in a Bugatti Veyron is merely part of the process of waiting to see what happens, what it feels and sounds like when, finally, you weld the accelerator to the floor. Yet despite weighing nearly 1900kg and having more power than any modern F1 car, the Veyron isnt the liability youd expect it to be on twisty roads. This car handles; really handles. And boy does it stop and steer incisively as well. If you really start to lean on it there's a whiff of understeer engineered into the chassis to prevent the tail from taking over; eye-watering body control, too, which is astounding considering how much mass there is to keep in check. DESIGN OR STYLING The Veyron is a car of engineering beauty, not the visual work of Monet. So its no disservice to bluntly describe the Veyron as a weird, insect-like machine with four huge tyres, an absurd number of scoops and winglets along the flanks and across the roof, featuring a distinctive white-and-red badge on the nose that reads Bugatti. On the tail are written the letters E and B. On top of the engine, which has no cover and is exposed directly to the air for cooling purposes, are the numbers 16 and four; 16 cylinders, four turbochargers. VERDICT So in many ways the Veyron is the best car the world has ever seen. You have to admire Bugatti and VW for a) having the guts to conceive such a monster in the first place and b) for summoning the engineering nous and commitment to produce it. But in trying to be the best at everything, which it pretty much is, the Veyron fails in the one key area that has defined the great supercars over the years; despite the titanic performance and refinement it doesn't grab you emotionally like it should. Not like an F40, F1 or even a Murcilago does. Bugattis argument is that it isnt meant to. The Veyron, says Bugatti, is the supreme technical creation as refined on the road as it is relentless against the stopwatch and therefore it isnt concerned with matters as trivial as emotional involvement or a ripping exhaust note.
Write your Comment on Bugatti Veyron
Bugatti Veyron User Reviews
All (11)
Mileage (3)
Performance (4)
Looks (4)
Comfort (3)
Engine (4)
Power (2)
Price (1)
More ...
Its a good car I have ever seen in my life Has hood features and extraordinary speed Thanks to Bugatti team members to build such amazing sports mission to peoples The mo...Read More

Superb car, amazing speed, the sound is superb but it costs a lot but I love the car Its design is amazing for the first drive I love Bugatti And all its m...Read More

Bugatti Veyron is a spectacular car that has lived up to its name with unparalleled performance and aerodynamics. The legendary car is best known for grabbing the title o...Read More

The Bugatti Veyron boasts a quite extraordinary set of performance figures. After just 2.46sec its reaches 100kmph, and barely a couple of seconds after that it bursts in...Read More

Excellent car with 8000 ccs. My lovely car. In the future, I will buy it. Its price is also less than the other models of it.

Best car in the world and best speed ever. It has the best model and design ever.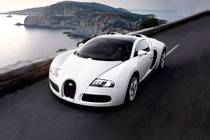 Rs.12.00 Cr*
This car model has expired