Conquest Evade Videos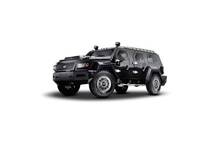 Rs.8.50 Cr*
This car model has expired
Conquest EVADE
Conquest Vehicles which announced one of the world's most secure SUV in 2010 created a unique market for itself in the armoured and secured luxury SUV segment. The canadian company, which based its Knight XV on military vehicles, opted in re-inventing security in terms of comfort. The price was paid well due to its distinct features and capabilities that weren't limited to night cameras, ballistic armoured steel and bulletproof glass for windows and windshields, robust build, flat tire system. The Conquest vehicles was supposed to be an indestructible fortress and it stood well up to the mark. With the increasing demand by people who are not much particular about the armour but preferred the robust structure, Conquest Motors decided to launch a modified version without the Armour. The EVADE was launched to the social media on 6th August 2012. The new EVADE features the protected hinges, etc. as in the Knight XV but also provide a better look and the main decisive factor remains the bulletproof structure. Including the traditional limousine structure for the rear seats positioned for two. The interiors also feature power windows, central locking along with a LCD screen in the rear and an amazingly large boot space that perfectly helps the vehicle in being a mobile fortress by facilitating space for much demanded luggage. The SUV also provides a similar abstract window positioning as in the Knight XV which gives a unique look to the exteriors. The luxury SUV comes in both diesel and petrol variants and has a four wheel drive system and three sunroofs.
Subscribe
7200 ViewsJan 24, 2015
Evade Interior & Exterior Images


Are you Confused?
Ask anything & get answer in 48 hours
Subscribe
Keep up to date with all the latest and upcoming videos from our experts.