How to avoid scams from mechanics
Published On Sep 11, 2014 06:38 PM By Prithvi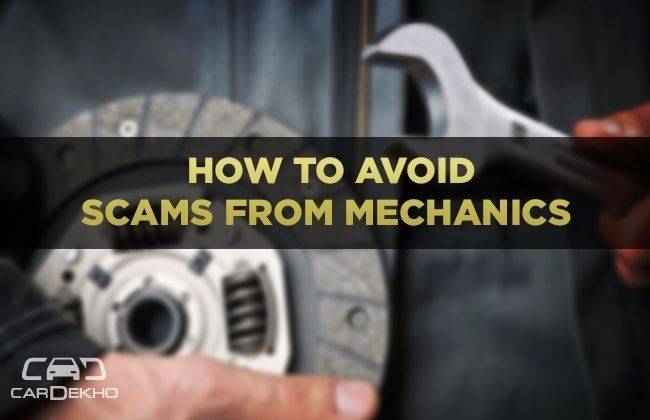 The lifeline of your vehicle is in two hands, one is you and the other one is your mechanic. Well the word mechanic refers to an individual/person who has all the technical knowledge and training to solve any glitches that are posing a problem for you and your vehicle. The most obvious route to take while getting your vehicle serviced or repaired is to send it to a company authorized dealer. In such a scenario one is assured of original parts and fittings but he/she would have to dig a bit deeper into their pockets in order to pay the bill once the job has been completed by the referred workshop.

Apart from this, the fact that you are not even allowed to visit the shop floor while your vehicle gets serviced or repaired does at times leave one in a state of dilemma whether or not the workshop is doing their job properly and whether or not I am being over charged for the components that are being replaced in my vehicle. At the end of the day, it is a slightly expensive proposition in comparison to the next option.

A common phenomenon, a large chunk of the Indian consumer prefer to go to the open market for getting their vehicles serviced or repaired. The notion for taking this step is that it is cost effective in comparison to getting it serviced at an authorised dealer. Though this might seem the right thing to do if you are the types who likes to maintain a healthy balance between expenditure and savings but unfortunately there is lop sided effect to it.

In all probability there is a high chance of getting mugged for the services rendered by the mechanic unless you know him already. In order to avoid getting taken for a ride always ask for original spare parts depending upon the model make variant of your vehicle.

Ensure that you are present at the time when your car is being worked upon by the mechanic. There can be instances wherein he could actually replace an original part with a spurious one that could either damage your car's engine or lead to problems in the overall running for the car. Therefore keep a close vigilance in order to avoid any kind of future glitches.

At times these mechanics also tend to offer you parts that are cheaper than the original ones; one needs to stay away from them as they might just decrease the life your car's engine. Therefore as mentioned earlier, always ask for known component manufactures products as they would help elongate the life of your machine and not put you in trouble during unwanted times. Besides this the most important point to be kept in mind is to ask for original packaging of the component being replaced so as to determine its price.
What it would help you do is keep a close eye on the prices of parts replaced and also help arrive at the costing of a service charged levied towards the overall bill of the work been completed by that particular workshop and mechanic. Last but not the least always gets a permanent bill for the servicing rendered by a particular vendor. It would also help in catching the culprit if and when your wheels falter on the road after its prescribed service.
Was this article helpful ?
0 out of 0 found this helpful