Driving in the Monsoon - How to Overcome Wet Roads
Published On Jul 20, 2015 06:08 PM By Sameer
Rain is amongst the most beautiful things that nature has given us. Although it looks beautiful and brings out the purity of nature, it is also blamed for thousands of accidents every year. Most of such happenings are preventable, which are caused by drivers who don't realize that driving in fair and foul weather conditions are two entirely different things. Remember, when the road is wet, the layer of the water on the asphalt causes tyres to lose traction and also decreases the visibility due to its action on the headlights, windshields and road itself. Most of the people know that they need to slow down their car, but definitely there are some more things you need to know while driving on the wet road.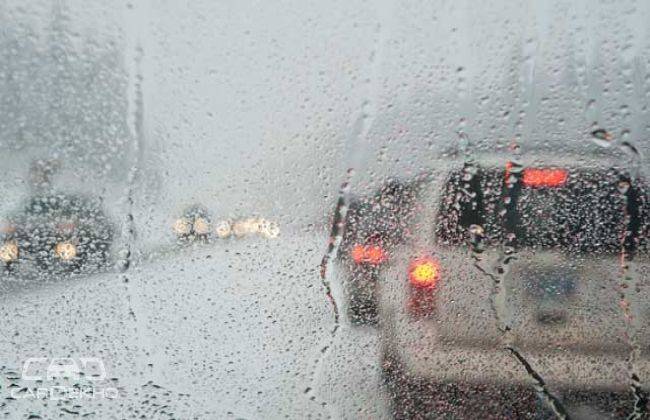 Check your Tyres before you hit the road: Due to the higher possibility of hydroplaning on the wet roads, it is quite essential to check the tyre pressure of your car. During rainy days, it is recommended to increase tyre pressure within 10 % of its usual level. Also, it is dangerous to use worn out tyres.

Slow Down your Speedometer: As soon as rain hits the road, it get mixed with the rubber and oil on the road, which creates slippery conditions that are perfect for skids. Driving at steady pace allows tyres to make contact with road, which results in better traction.

Learn to recover from skid: Skid can happen to anyone, even the most cautious drivers may have to face skid. If your car slips, make sure you do not slam on the brakes. If you have anti-lock braking system in your vehicle, do not pump the brakes, rather apply firm and steady pressure and steer the vehicle towards the direction of the skid.
Drive in the direction of a car ahead of you: Following the track of other cars on the wet roads can reduce the amount of water between the road and your car tyres. Try to avoid using brakes, instead slow down your vehicle by taking your foot off the accelerator whenever possible. Also, make sure you turn on your headlights, even in a light rain. This will allow you to see road and will help other drivers to see you.
Remember to dry your brakes after driving through standing water: In case you have driven through the standing water, which is deep enough to get your brakes shoes wet, apply the brakes lightly to dry them.
Was this article helpful ?
0 out of 0 found this helpful