7 steps you may not know for a cleaner car
Published On Sep 11, 2014 07:19 PM By Abhijeet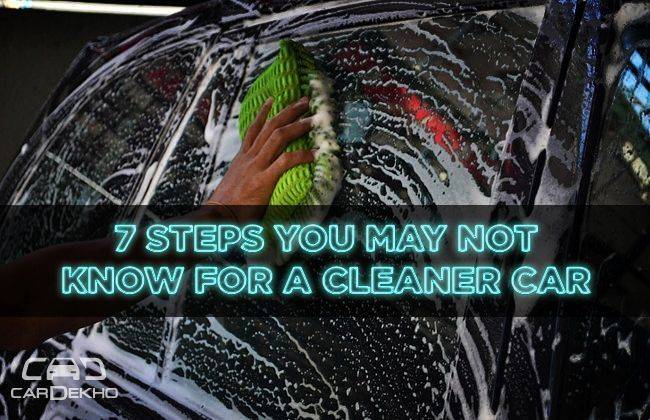 Your car is a pious soul. It performs its duties as instructed by you. You tell it what to do and it obliges. You carry your stuff around in it; you reach your office in it, pick up your family from the airport in it, and even use it to blow off a working days steam. You car performs all of this without a hint of retaliation, and all it requires in levy is a fuel and slight maintenance on your part. Perhaps the most basic of these maintenance schedules is washing your car. This activity requires the least amount of investment, be it time or money, and can be turned into a fun family activity with your kids.

Here is the entire exercise in simple steps for you. A clean car has longer life and makes you feel better driving a shiny clean car.

Step 01: Preparation
First you have to find an apt location to wash your car. If you clean a car in direct sunlight, soap will dry on the surface before you even wash it off. Preferred time to wash a car is in morning or evening when the sunlight is the lightest in intensity. Also make sure you park on a clean pavement and not on a dusty patch. Avoid washing under a tree as leaves and buds might keep sticking to the car. Now all that you need is a hose with enough pressure to wash sticking mud and grim away, and a stopper on it to save water. Have some car soap, a large sponge, clean rag and a few buckets of water ready.

Step 02: Wheels first
Before you go splash happy on the body work, take the hose and focus pressure on the wheels, tyres and wheel arches to wash away all the mud and grim. Chunks of mud and grim stick to the inside of wheel arches which are essential to cleaned before you get to bodywork.

Step 03: Rinse the entire body
Once you are done with the wheels, take the hose and wash the entire body of the car. Use pressure on the regions which have more dust and grim on them, such as the front bumper, the rear bumper and the lower bits of the car.

Step 04: Lather
Now take two separate buckets of water, add soap in one bucket and leave the second with clean water. Take a sponge, dip it in soap water and lather the car body thoroughly working your way down from the top to bottom. Break the structure down into sections and start cleaning from the roof. Flip the sponge over, swipe and rinse again. Be careful not to scrub off dirt as it may cause scratches on the body of the car.

Step 05: Wash off the soap
Clean the sponge and now wipe of the soap with clean water. Soak the sponge and clean the surface in the similar top down approach. Now take the hose and wash the entire car.
Step 06: Dry off
When the car is clean and shiny, it also becomes essential to wipe the water off its surface. Use a clean rag which soaks water and keep squeezing it periodically. Try to reach every nook and corner of the bodywork and you are done with your car all clean and shiny.

Step 07: Cleaning interiors
Before cleaning the interior, pull out all the floor mats from your car. Then bring out all the trash and unwanted items from the car. Now take a vacuum cleaner and try to clean every bit including the seat seams, under seat area and around wherever you can reach. Take a clean rag and an all-purpose clean to clean the dash board and doors. Dust the mats off with a brush and place them back in their original position.
This simple exercise would add a great deal of grace to your prized vehicle. Agreed the procedure would leave you wet with sweat and will give your body a workout, but it is worth it and you can skip the gym for that day.
Was this article helpful ?
0 out of 0 found this helpful