Tips for Driving with Children
Modified On Jul 25, 2019 02:11 PM By CarDekho
Most adults enjoy long road trips for the most part, especially when they offer the chance to drive a lot of highway kilometres with nothing but nature and good scenery surrounding them. However, if you are a family person with children to look after, this can turn out to be a lot more tiring than you'd expect. Understandably, you'll also have the added stress regarding their safety and well-being, with the concern about how well you can drive with kids in the back seat.
In order to help you ensure a safe and stress-free journey with your little ones, we at CarDekho have decided to bring you a few tips on how to prepare for a long road trip with your children.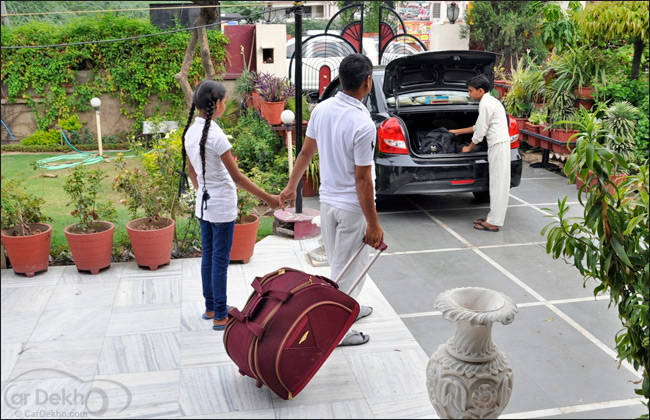 Packing
"Failing to plan is planning to fail." Your road trip's success is directly linked to how well you plan the trip. Packing is one of the most essential objectives of a well planned trip. Here are a few important things that you will need in order to ensure a successful road trip with your children.

Safety First
Remember to have a child friendly first-aid kit with you at all times. Children by their very nature are accident-prone. Remembering to pack a first-aid kit will be good foresight in case of any accidental injuries to you or your child. It also helps to keep some basic medicines for fever, cold and/ or digestive issues.

Hunger pangs strike when children have little to do on long trips, so be sure to stock up. Children are known to be fussy eaters so make you pack something that is acceptable to them while being healthy enough too. You may or may not be able to buy your preferred product out on the open road.
In cases where the children are still too young to eat solid food, remember to pack their food and drinks separately. If you are in the habit of giving formula milk to your child, include that as well.

Child Restraint Seats
If your child is under 3 years of age then it is wise to bring a child restraint seat with you. Also it is better to install this seat at the back rather than in the front of the car. For children above 3 years of age a child seat may be used in the front, but it is still not advised.
For slightly older children, get them in the habit of buckling up using the rear seatbelts whenever they join you for a drive. It may be uncomfortable around the neck due to poor design and you'll have to work your way around that, but it is a vital step not only for ensuring their safety but also to imbue road sensibilities.
Adult Company
Whenever possible always try to pair an adult with a child. This will be of help during emergencies when you need someone next to the child to take care of him/her. It can also help keep them under check as children are prone to get restless on long drives.

Child Lock System
Always remember to make use of the Child Lock feature in your car when travelling with kids. By their very nature kids are curious about things and will possibly pull or push your car's door handle while the vehicle is moving. This could prove disastrous to your trip. Also engage the Window Lock feature as an added precaution if your vehicle comes with it.
The child lock system ensures that the rear doors cannot be opened from the inside. It is most commonly engaged using a small switch on the side of the door, accessible only when the door is open. It is also good to remember to disengage the child lock system when not needed.

Do Not Let Them Distract You
All parents care deeply for their children. However, there is a limit to the amount of affection and attention you must bestow upon them when behind the wheel. Kids will always ask you to let them sit on your lap in the driver's seat or to let them honk the horn. Be firm about refusing to let them have their way with such requests. The driver's seat is no place for a child and should not be taken lightly.
Also, do not be distracted by children's antics while driving. It could cause you to keep looking at the back seats either by turning your head around or via the inside rear view mirror. This means your eyes are not on the road ahead, increasing the chances of an incident.

During the Trip
Although a long road trip with children in the car may not be anyone's idea of the perfect trip, it does not necessarily have to be a difficult one. The foremost thing that must be kept in mind while travelling with children is that they do not have the patience of adults nor the temperament. When dealing with children on long road trips remember that distraction is the best solution to a incident-free and fun road trip.
While a tablet or handheld device with an internet connection or pre-downloaded games and movies is the most common solution these days, there are non-screen options too. Playing some road games is an excellent way to keep children preoccupied and make sure they do not disturb you while you drive. This will keep the little ones busy while the adults enjoy the passing scenery. If you take the mobile device route, be sure to give them suitable headsets so that their audio does not distract you too much, or limit the volume on their device.
Always remember to give the children a break every so often. Little feet need to move a lot and cannot stand being cramped up the way adults can for long periods of time. So try to have as many rest stops as required for the children to avoid irritation and tantrums. Also try to coordinate bathroom breaks as there is nothing worse than a child who has to relieve themselves in a moving vehicle during a trip. Some children also suffer from motion sickness and would also need some rest stops on trips.
If you plan on stopping at an area for activities, also employ the buddy system with the children. An adult should always partner with a child no matter where they are going. It also helps to bring some form of identification document of the children in case of any incident. It is always better to have your child's identification at hand and not need it, rather than not have it and need it!
Photography By – Sitaram Swami
Was this article helpful ?
0 out of 0 found this helpful