Tips to Help You Sell Your Maruti Car Better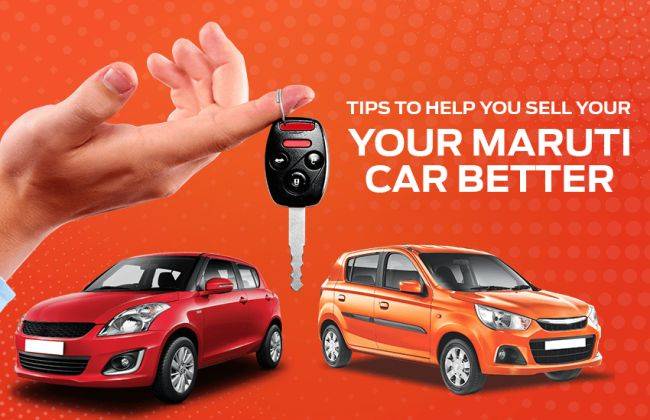 Maruti-Suzuki is a household name in India and the company is the most loved automobile brand in the country. Maruti has revolutionized the car domain in the Indian market and since its inception; the brand has established new records of affordability, reliability, and wholesome customer experience. Going by the sheer large number of people driving Maruti, chances are high that you too might be a proud owner of Maruti and have been driving it for quite some time now. If that is true, there is a possibility that you are now looking to upgrade your car. As a first-time seller, you might not be aware of what needs to be done and what are the things you should be careful about while selling it. We list some of the important things that will help you to sell your Maruti car better.
1) Make your mind to sell your car
This is the hard thing to do as you might have a strong bonding with your Maruti car. There are many firsts associated with the vehicle and it's not easy to let it go. Still, at one point in time, you have to realize that now the moment has come to bid adieu to your Maruti. Once that realization happens the next thing is to get your car ready for the sale which essentially means fixing issues which could probably hinder the process of your car's sales. Check out for scratches, dents, and other visual discrepancies and get them fixed immediately. Similarly, interiors should be cleaned up and it makes sense to avail the services of professional car cleaning companies for a desirable result.
Remember, completing all these processes requires time and hence, you should start preparing around a month before you put your car out for sale. Many among us think that a day or two is sufficient for preparation which is not the right assumption. In order to get a good deal, you have to start preparing early and devote considerable time to refurbish your car.
2) Bank on experienced service provider
You will find a number of local dealers who trade in old cars or act as a broker to find a buyer for your Maruti car. However, it is advisable and recommended that you choose a well-known and established platform for selling your car. CarDekho Gaadi has more than a decade of experience in the automobile industry and has emerged as the trusted and preferred destination for car selling across the country. You can get an estimated value of your car on Cardekho.com and then sell your car to CarDekho Gaadi Store in a single visit. The quick and transparent operating mechanism of the portal makes sure that you get the best deal for your used car.
3) Get the documentation complete
It is absolutely mandatory to have your car's documents complete in every sense. Make sure to have the registration certificate (RC), valid insurance, and pollution under control certificate handy as these documents are essential for the transfer of ownership. Given the fact that Maruti happens to be the most reliable car brand in the Indian market, you will get extra price benefit if you sell your car with complete documentation. Remember, the car selling process can't be assumed complete until the RC of the car has the name of the new owner on it. CarDekho Gaadi helps you on this front too as you get the facility of free RC transfer in addition to the loan closure assistance provided by the car buying portal.
4) Be easy on your car
Once you take the decision to sell your car, it is desirable to be easy on it for the remaining time period. Avoid using it for long drives and even in the city while you commute, be gentle with the throttle. A little bit of extra care while changing gears, pressing the clutch, and using the acceleration will help a lot in maintaining the car's composure for a long time. That's not to say that new cars should be hasted upon but yes, the car that you're going to put out for a sale deserves a bit of extra care.
If you are finding any difficulty in selling your Maruti car, you can contact them on 1800-12345-2323. Just visit the nearest CarDekho Gaadi Store once and we assure you that you will never go back to conventional methods of car selling.
Also Read:- 10 Steps to Selling Your Car