How to Sell My Car Fast?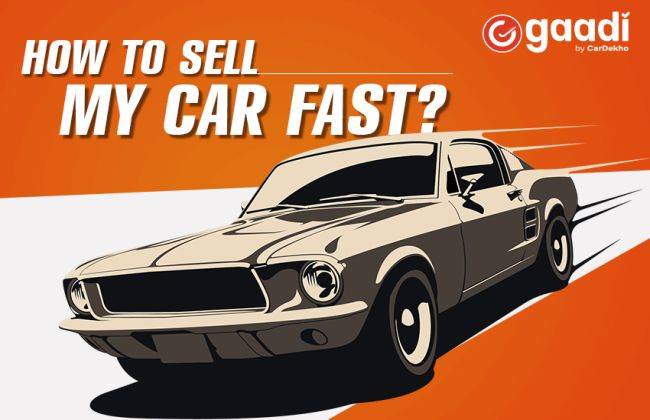 Some situations in life demand urgency - you might want to change your job promptly, get out of the relationship quickly, or need to have access to funds instantly. Similarly, you may be in a hurry to sell your old car but then it is not an easy task to accomplish. To begin with, finding a buyer for the used car is difficult and on top of that, if you want to sell it quickly, the situation becomes even harder. You need to compromise on the price but even then there's no guarantee that reduced price will convert your car into cash quickly. That said, there are a number of options available that can come to your rescue, and here's the list of top four methods that can help you to sell your car quickly.
1) Sell at a Discounted Price
Get a fair estimate of your car's value and then try to sell it privately at a price below its estimated value. The process may require you to post an advertisement for your car but make sure you highlight the low price in the promotional exercise. Expect to get a large number of responses; however, many potential customers may be skeptical about the car's low price. Be ready to assuage their doubts about the quality and prepare a solid ground to explain the reason behind the low price you are demanding for your car. You can always tell the suspecting minds your urgency to sell the car which is why you have priced it lower than its expected market price.
Downsides
You might be able to sell your car quickly by discounting its price, though the process requires a lot of time and effort on your part. Right from the documentation to placing the advertisement and from scanning the buyers to allaying concerns about quality, each and everything has to be done by you. Further, convincing buyers about the good quality at a low price is easier said than done.
2) Selling the car to Dealership
If your car is in the right working condition then you should be able to sell it quickly to a dealership. Make sure you visit a couple of dealerships to get the best deal and it would be better if you approach agencies dealing in your car's brand. Once your vehicle is appraised by the executive, you should be able to finalize the price and get the money quickly without any unnecessary fuss. Also, selling to a dealer minimizes the risk of misuse of your car especially during the period when the ownership transfer request is in the process.
Downsides
Firstly, you won't receive the best value for your car. In fact, selling your car to a dealer will fetch you probably the least amount among all the available options. Second, you can't do much bargaining and during the negotiations; it is the dealership executive who is usually dominant during the process.
3. Selling car to a relative or friend
You may be having some relative or a close friend who is willing to purchase your old car. In such a case, you can get good value but there may be a situation where you receive only part payment or amount in installments. Still, selling your old car to somebody known is not a bad idea – it saves your efforts on advertisements, scanning the potential buyers, selecting the genuine ones, and then negotiating with interested parties. Also, any threat of misuse of the vehicle is minimized and you feel quite comfortable during the selling process.
Downsides
Selling your car to a relative or close friend may not get you the total amount of the deal upfront. Also, you may feel awkward negotiating hard when it comes to dealing with your near and dear ones.
4. Sell your car on Cardekho.com
If we say that you can sell your car quickly and that too at the best price with utmost ease and convenience, you may not believe it at first. But then log on to Cardekho.com and see for yourself how quick, convenient, and safe a car-selling experience could be. The portal has a trusted network of more than 1,600 channel partners which help you to get the best price for your car. Moreover, you can sell the car in a single visit which means it very well takes care of your concern about selling the car quickly. Add to this, the convenience of RC transfer that the portal offers at no extra cost and you'll be sure to go gaga over the car selling experience at Cardekho.com.
Also Read:- 10 Steps to Selling Your Car