Must Read: Used Car Buying Guide
Published On May 16, 2016 12:42 PM By Aman
Buying the right used car is a little complex journey altogether compared to a new car which is an easy purchase. For a brand new car, you just need to decide the right segment, get your budget in place, and after some negotiations you can get the car that you want.
Whereas, buying a used car involves a host of other steps. After deciding on the budget, you need to decide whether you need to buy it or not, what you will have to compromise on, get it inspected and then take care of the documentation process and so on. And if you have never owned a car before, this task can be all the more daunting for first time buyers. But all said and done, it has its own perks as well. If you go through the right steps and carefully narrow down your options, you can easily get your hands on a great deal which is value for money as well as affordable.
To help you along the way, we have created a checklist to keep your priorities in order. This will help you keep track of whether you have taken all the necessary steps or not.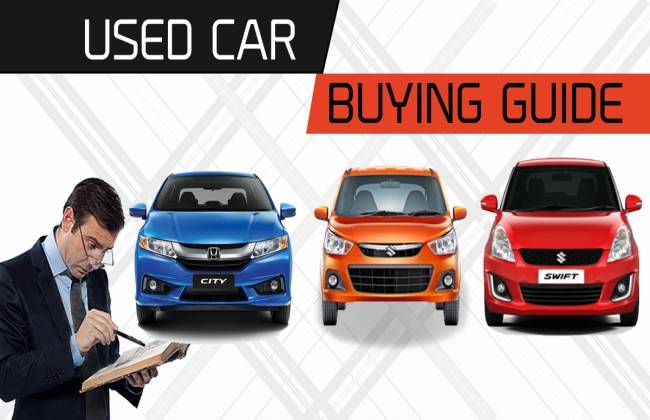 Starting off with Pre-Research phase:
Why do you want to buy the car?
You need to have an exact idea of what you want to use the car for. It might be:
An upgrade from a 2 wheeler or from public transportation.
A spare or a second vehicle to take the family out on holiday.
A separate car for your wife/sister/mother/father etc.
Used cars can give you endless options. While a new car comes with limitations in a particular segment for a restricted budget, a used purchase gives you the liberty to go for a higher segment vehicle which can fit to your budget as well. So it's always important to keep a budget in mind so you don't get carried away with more and more pricier options.
How many people will be travelling daily in your car?
Based on this, you can decide how many people on an average will be sitting in the car and with what frequency. If more people travel on a regular basis, you might have to prioritize rear seat room over a few other things.
If your entire family will be travelling in the same car daily, a 7 seater MPV or an SUV makes more sense
If the car is bound to make a lot of outstation and hilly terrain trips, again an SUV or a compact SUV can be your choice
If you will be driving alone and you encounter daily traffic, a hatchback is more practical and affordable
How many kilometers will you be driving daily?
This is an important question that will decide what kind of car you want to buy. This will help decide the fuel type of the car and also the creature comforts you will want.
What sort of conditions will you drive in?
If it is bumper-to-bumper traffic every day, you can consider going in for an automatic or the modern day semi-automatic cars. Similarly, you can also prioritize safety aspects higher if you are wading through heavy traffic on a daily basis.

Begin the research by zeroing in on the vehicle and sellers:
Is anybody selling a used car within your network? If yes, make sure you know in and out about the car and the seller is trustworthy. But make sure that your personal relationship is not at stake in case you encounter an issue with the car.
If you don't have any known contacts, you can always prefer the best and convenient option of doing online research first by visiting an auto portal that offers certified used cars with warranty
You can also visit a certified/OEM dealership that offers trusted and inspected used cars
Are the variants the exact ones you were searching for? What points do you have to compromise on? Due to any number of reasons, if you do not find a fitting price for the model you are searching for, once again try to prioritize what you want more over others. Features such as mileage, safety features, interior space, spare part cost should take top priority, after which you can choose which creature comforts you can skimp on.
Is the car in warranty? Is the model still in production? How is the after-sales network? These points play a role in deciding the price of the car. They can also make your first ownership experience a very difficult one. So make sure to research them properly before going ahead with a particular model.
If you want to know more, here is how you can do an in-depth research on a used car. Once you have narrowed down your choices, it's time to physically inspect the used car. You can always take a mechanic or a trusted source with you and carefully check car's exterior for paint, dents, accidental parts or any other damage or irregularity. Then go under the bonnet and check for areas such as engine belts, fluid and coolant level as well as color mismatch for metallic parts. Post that, step inside and check the interiors carefully including under the seat, mats as well as other features and electronic equipment check.
Once a thorough inspection of the car has been performed, take it out for a test drive. This is a very important exercise. Drive on a route that has congested city traffic, potholes, and bad-sections of the road along with open stretches to check for cars drivability. Drive varying the speed of the car and also check important areas such as suspension, brakes, steering wheel and Noise, Vibration and Harshness (NVH) levels as well.
Are all the credentials of the car in order? Are they reliable? Never take anything at face value. Always ask for proof of everything with proper documentation. If you are getting a free service check or additional warranty for a specific period, make sure to have all of that in written, signed and approved from the seller. But don't, in any situation compromise on these things, or they will come back to bite you.
Let's get down to some paperwork now and additional checks:
What are the interest rates like for the car loan? What is the maximum repayment period?
These will tie-in with the research-oriented questions. Figuring out the financing aspects beforehand will save you lots of trouble. Figure out how these loan rates differ for different cars based on
Fuel-type
Model age
Region of purchase
What are the insurance premium rates like for the car?
Premium rates again depend on a number of factors, the important ones being:
Engine Size
Feature list of the car
How much will it cost for repairs, if any?
Every used car has to be serviced to some extent, some more than others. Be sure to factor this into your budget. Also, decide what a reasonable price to be spent on repairs is. There is no point in buying a car cheap but spending extra on its servicing and maintenance.
Is the car already insured? Or do I need to get it insured?
It's always a great deal if you can get a used car which is already covered under insurance with the premium already paid by the first owner. Till the time it is covered, say for the next 6 months or a year, you can drive it without any worry. But, if you are getting a car which doesn't have insurance, you can either negotiate with the owner or the seller to get the insurance done within the deal or you can always opt for getting it done post your purchase. But getting the car insured is MUST.
Now if you have finalized a car, how to get the ownership transferred to your name?
There are quite a few rules regarding ownership transfer for a few exceptional cases like if the car is out of state, or if it is part of a bank auction. Stay away from such deals as much as possible. But if the deal is too good to miss, arm yourself with proper information regarding all the transfer procedures.
You can apply for ownership transfer in your own RTO, the ideal documents required are:
Form 29, (Form 28 in case vehicle is from another region) – 2 copies
Form 30 – 1 copy
Original RC book (with RTO NOC stamp)
DD (Demand Draft) for payment of life-tax of vehicle (you can get a refund from the original RTO later)
PUC (Pollution Under Control) Certificate
Address and Identity proof
Car insurance copy
All valid vehicle documents and personal documents. (originals and photocopies)
3 passport size photographs.
If you are buying from a certified dealership, you can get a helping hand with this process and get the documentation done on your behalf. Always feel free to ask for help in maintaining transparency about the vehicle's past owner and the essential documents required. Read here to know more about the entire paperwork process.
While you finally receive the car, ensure that you do the following:
Check all the vehicle documents
Verify if the VIN number on the vehicle and RC matches
Ensure that you are given a duplicate key
Make sure the car has been completely serviced with fluids and oils filled to adequate levels
Ask for a demo of all the features of the car
After completing all the above checks, you can now find a used car that caters well to your needs and will not make you dig too deep into your pockets. But always remember to be aware, research well and be alert at the time of purchase so you don't forget anything. You can even take a printout of the above pointer's so you don't forget. Happy Buying!
Was this article helpful ?
0 out of 0 found this helpful