Got 18 lakhs? Decide Between a New OR a Used Luxury Car
Modified On May 17, 2016 05:12 PM By Aman
Now who doesn't like a Mercedes-Benz, BMW or an Audi handsomely parked in one's garage? Well, we are sure you do, but there are certain aspects that you need to consider before making your final choice. You have worked hard all your life and now finally have a decent amount of money at your disposal to get yourself a new set of wheels. A car speaks a lot about your lifestyle, choices, and your overall personality. So it's important to choose a vehicle that suits your everyday needs and caters to your personality as well.
But now comes the real dilemma. For the kind of budget you have, you can either go for a brand-new, decent top-end commuter or, if you carefully look around, you can also get a used luxury car from a brand that you have always dreamt of! Let's take you through this journey and simplify things so you don't have to sweat over making the right decision.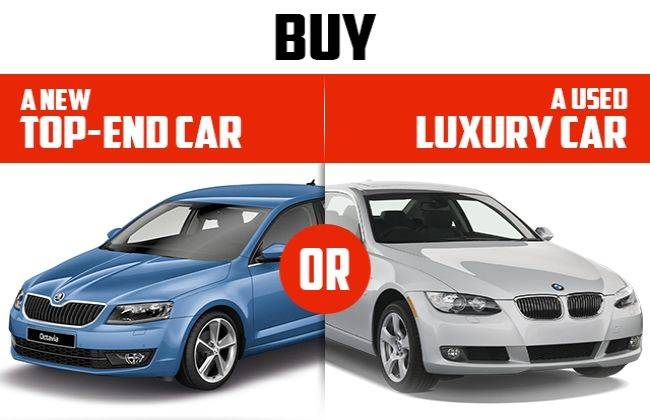 It will not be wrong to say that a luxury car not only boosts your social status but it also comes equipped with features and attributes that make driving fun as well as comfortable. But then again, owning a used luxury car will come with a lot of other bills attached. Also, nothing can be compared to that fresh new car smell and ease of driving experience that comes with a brand new car. On the downside, it won't give you that badge to boast about, and the luxury experience that you have experienced only in your dreams.
To understand the situation better, consider a scenario where you have a decent budget of 17–18 lakhs to spend on a car. Within this budget, you can easily get a brand-new Volkswagen Jetta 2.0 TDI comfortline, Skoda Octavia 2.0 TDI Ambition or even a Hyundai Elantra CRDi SX, to name a few, which come packed with a lot of upmarket features such as leather seats, touchscreen navigation as well as punchy engines under the hood.

Now consider this: by only spending 15.5 lakhs (New Delhi price), you can go for a 2012 BMW 3 Series 320d diesel sedan which has done roughly 51,000 kms, or you could also look at a 2012 Premium Sport limited edition Audi A4 2.0 TDI which has done close to 48,000 km, priced at 17.9 lakhs. Doesn't this sound like a good deal?
To clear the confusion in your mind, here are a few essential details which will help you narrow down your choice.
Used Luxury Cars
The Good:
A complimentary high-class status: Yes! No matter how much one tries to deny it, a luxury car speaks for itself, creating a situation where you don't have to go and brag to people about your accomplishments. The luxury badge does all the talking for you.

Above feature is a part of the latest BMW 7 Series and is shown for representation purpose only
Features that can make you drool: A luxury car will have more premium components than your "normal" car. Features such as powered seats, panoramic sunroof, multi-zone air conditioning, and even a massage feature, to name a few, are ones you don't come across in normal cars. Getting access to such comforts for the same money or maybe less can be a great deal.
A better driving experience: Nothing can beat the adrenaline rush one feels when one steps on the accelerator of a powerful luxury car. Packed with potent engines, you can enjoy all that the car has to offer, right from an amazing driving experience to the overall contentment that comes with owning such a car.

Lose less money: The first few years is when cars depreciate most in value and a luxury car definitely loses a considerable amount of its market worth. So, when you go for a used one, its value has already gone down to a significant extent. Even if you decide to sell it again, you will not lose a lot of money.
Reliability factor: Luxury cars are not only made to be admired; they are also crafted to excel in the reliability factor. While a normal car would undergo serious wear and tear after running around 1 lakh kilometres, under ideal conditions, a luxury car crosses the 1 lakh kilometre mark with a smile.
Recognizing the growing demand for used luxury cars, a lot of top luxury car brands have opened dedicated used-car OEM (Original Equipment Manufacturer) dealerships that offer thoroughly inspected used luxury cars. For example, Audi has Audi Approved Plus and BMW has BMW Premium Selection, while Mercedes has opened Mercedes-Benz Certified dealerships which cater to used cars only. These ensure that the quality of used cars sold remains as close to a new car as possible. They also offer a warranty to some extent, to encourage buyers.
The Bad:
Cost of Upkeep: Getting a used luxury car at throwaway prices does not mean that its maintenance will sit light on your pocket. Most premium cars are pricey to maintain with prices touching the skies. Right from the fluids that need regular topping up to the abnormally expensive spare parts, you will end up spending a lot more than you will on a regular car. To explain this better, let's consider a scenario here.
Below is a comparative table for maintenance cost difference between a BMW 3 Series (320d) sedan and a Volkswagen Jetta Diesel:
| | |
| --- | --- |
| BMW 3 Series (320d) | Volkswagen Jetta Diesel |
| Average service cost Between Rs. 25,000–30,000 | Average service cost Between Rs. 10,000–15,000 |
| Engine Oil and oil filter replacement Rs. 10,000 | Engine oil and oil filter replacement Rs. 4,600 |
| Air filter Rs. 4,500 | Air filter Rs. 870 |
| Pollen filter Between Rs. 1,200–1,500 | Pollen filter Rs. 866 |
| Fuel filter Between Rs. 6,000–8,000 | Fuel filter Rs. 1,623 |
| Headlights assembly Between Rs. 1.5 Lacs–2.0 Lacs | Headlights LED Rs. 53,375 |
Estimated price only, does not include labour charges*
Going through the above table must have given you a fair idea about the downside of maintaining a luxury car. As most of these parts are imported and made with expertise, their prices tend to be quite high.
If your model is discontinued, good luck finding spares: The only thing worse than having expensive spares is having no spares. As these cars are not mass-market, the demand for the same is quite less, which also affects the availability of the spare parts. If the manufacturer has stopped producing your model and make, you're in for a tough time finding spares. Even if you do, they will most likely be unreasonably expensive.
No nukkad service stations: Again, since these cars are a high-value purchase, the demand is quite low. A luxury brand cannot have a service station at every street corner. To add to the problem, you cannot get a luxury car serviced at a local or unauthorized service station due to its complex features and the gadgets appointed, which every mechanic can't cater to. Thus, you can get them serviced only at authorized service centers.
Driving interface takes time to adjust to: Driving a luxury car is a little complicated compared to driving your regular car. There are multiple driving modes to choose from. Apart from the regular automatic transmission, you will also find paddle-shifting gears mounted on the steering wheel, which again is not everyone's cup of tea. Features such as park assist sound very convenient but they take time for an old-school person to get used to.

Don't expect the latest technology and features here: Luxury cars are the first to get the latest gadgets and gizmos. This is also a double-edged sword at times. The used luxury car that you are going for will not have the latest features that are available in its current-generation variant (unless you can get a used luxury car which is hardly a month or two old). So you'll have to compromise on the latest luxury features.
Fuel efficiency: These are not your mass-market cars, so forget about asking 'kitna mileage deti hai?' if you are going for a performance luxury car. Having a bigger and more potent engine would mean drinking fuel like a chilled drink on a hot summer day. And if the car is not maintained well and/or serviced regularly, fuel economy will go down again, thanks to engine wear and tear.

New Cars
The Good:
That new-car fragrance: Nothing can compare to the high of the new-car fragrance, right? It has hardly any kilometres on it, the cabin is fresh, and all the features are in place and working perfectly. This can definitely put you in a good mood; at least till the time your car gets into the 'old' category (which should take a year at least).

Forget about paid service, at least for some time: Buying a new car means that, for the first few months, you will get certain check-ups and service done for free from the manufacturer's side. Everything – including the engine oil, coolant, brake oil, as well as other fluids – is completely new and filled to the optimal amount. So you can drive your car without reaching out for your wallet much.
Enjoy manufacturer warranty: You have a long list of parts under warranty for the first few years of ownership. This will definitely add to your peace of mind. Like before, let's take the example of the Volkswagen Jetta. You get a 2-year, unlimited kilometres worth of manufacturer warranty against any manufacturing or material defect. In addition, you get 3 years of paint warranty, along with 12 years of anti-corrosion perforation warranty.
No wear and tear for the initial years: It's a new car! Unlike in a used car, you need not pray that the previous owner was a gentle driver and scrupulous with the maintenance. A new car is always at its peak condition. So you can forget about wear and tear, at least for the first few years.
Get the latest and the most power-packed features in the segment: A new car will be equipped with the latest technology in its segment, be it in terms of creature comforts or safety features. And in case of a top-end commuter ranging between 17 and 18 lakhs, the features you get will be almost similar or even better than what is available in entry level luxury cars.
Feature comparison between Volkswagen Jetta Highline TDI and BMW 3 Series (320d Prestige)
| Features | Volkswagen Jetta Highline TDI | BMW 3 Series (320d Prestige) |
| --- | --- | --- |
| Air Conditioner | Automatic - Dual Zone | Automatic - Dual Zone |
| Rear AC | Vents available | Vents available |
| 12v Power Outlet | 2 | 1 |
| Cruise Control | YES | YES |
| Parking Sensors | Front & Rear | Only Front |
| Driver Seat Adjustment | Electrically Adjustable | Electrically adjustable with memory |
| Front Passenger Seat | Manual adjustment | Electrically adjustable |
As you can see, a new top-end commuter is almost on a par with its luxury counterpart when it comes to features.
Easy financing with low EMI: It is generally easier to get loans for a new car -- at lower rates to boot. Here's a comparison table:
| | |
| --- | --- |
| New Car Loan Interest Rate (%) | Used Car Loan Interest Rate (%) |
| 12.25%* (up to 24–35 months) | 15.50%* (up to 24–35 months) |
*These are indicative lending rates of banks
Range of choices: In the new car market, you are limited only by your budget. There are different segments to cater to every type of customer. And with every carmaker vying for a share of this fast-growing market, one is definitely spoilt for choice.
The Bad:
Fast depreciation: As stated earlier, the value of cars tends to depreciate most during the first few years of ownership. Three, to be precise. So, even if you think your car has great resale value, prepare yourself mentally for when you plan to sell it.
No 'luxury' badge here: What if you were to answer a simple question about the brand you drive? If you have gone for a brand-new Volkswagen Jetta, you will say 'I drive a VW or Volkswagen'. But if you drive a BMW instead, even a second-hand one, you will proudly answer 'I drive a BMW' and even show off that fancy key ring of yours! That's the difference in perception and the social status that a luxury car brings to the table.

So, what should you go for?
There is no right or wrong here. When you are considering a new car in the upper segment and comparing it with a luxury used car, the decision cannot entirely be from the mind. There is some bit of emotion and heart involved as well. For somebody who aspires to these luxury brands and is an enthusiast as well, the latest technology or the new-car feel of a normal brand will not appeal to him/her. Such a person can live with the flaws of a used luxury car and still revel in the tag of power and luxury that comes along.
Then again, don't go completely with your heart, for you might end up buying a faulty used car. Go through the points listed above carefully so that your purchase makes practical sense as well. With the appointment of the latest features and gadgets, the modern-day top-end commuters are no less than their luxury counterparts these days. So if you are not really bothered about the luxury badge and favour features and affordability more, a new top-end commuter is yours for the taking. So, relax, compare the cars with the pointers mentioned above, and listen to your heart as well as your mind, and go ahead and get hold of that car of your dreams.
Was this article helpful ?
5 out of 5 found this helpful