Explained: Used Car Certification and Warranty
Modified On Jun 10, 2016 04:41 PM By Aman
Buying a used car is still considered to be a gamble for a lot of buyers. The sole reason behind this is the lack of assurance and responsibility taken from the sellers end. One might find a fancy looking car which looks good on the outside as well on the inside, but the moment you purchase it and drive for a couple of months or may be less, it might show you its troubled face with more than often visits to the garage. And to make matters worse, you don't have any official authority to challenge the car seller once you have made the purchase. All you are left with is a verbal assurance from the seller that is as good as assuring that you just purchased moon, and you also know how true it can be!
At max, what most of us would do is to check the used car by ourselves in various possible ways, but we would still not be sure if the car that we just bought is a trouble free car or not. The other possible way is to reach out to a car mechanic, who obviously knows more than you, and can inspect a car better. But then again, how credible or honest can be the car mechanic's advice? The fear of getting duped by a seller, especially car dealers, has ventured so much into the buyer's mindset that at times everything a car seller might say about that fancy used car, you end up thinking completely opposite of that!
This is where something very useful and yet powerful is now made available to a car buyer. We are talking about used car certification! Ever wondered how relaxed one feels when buying a brand new car, when you know everything is tried and tested? Well, you can feel the same with used car certification as well. It is by far, the best gift that a used car buyer can expect, that now gives him/her the power to go ahead with the assurance of a trouble free purchase and in return get the authority to challenge the seller in case of a faulty purchase.
Until now, we have talked about the power of certification but there is still one more doubt that can trouble a used car buyer. As certification gives the assurance of buying a trouble free car, which is normally done during purchase, but what about the after purchase assurance? How do you make sure that the car that you have bought, which although is certified and in good condition, will remain in similar condition after your day today usage? So getting a post purchase assurance also becomes critical when going for a used car so that you can relax and focus more on the fun times in your car rather than paying visits to the work shop. To get this done, buyers can opt for a used car warranty that can be taken along with certification which seals the deal completely.
Now, you have the assurance of certification during the purchase and also the reliability of a used car warranty that will take care of your car in the near future.
As the two terms, Certification and Warranty for used cars are quite broad in nature and proceeded with great level of details, it is vital to understand them on different differentiating factors. During the course of this article we will explain you at length about the two so you can get a better understanding of these assurance mechanisms for used car purchase.
What exactly is a certified used car
The name here is self-explanatory. It is a used car or a pre-owned car which has undergone a series of multi point check-ups or inspection and is also maintained in a trouble free condition. These multi-point check-ups are done thoroughly by a qualified technical person who offers his acknowledgement only after carefully checking even the minutest of details in a used car.
A multi-point check-up generally covers the following sections:
Driving Test- engine performance, noise and overall ride quality
Frame and Chassis- complete frame inspection for repairs, damage done or any abnormality on the chassis
Glass, Wiper and mirror check- checks on front and rear windshield, condition of mirrors
Exterior lights- headlight, tail light, parking lights, low beam, high beam and so on
Engine condition- check on oil level, fluid level, belts hoses and wiring
Fuel pump- fuel pump noise, fuel filter, air filter
Electrical systems- starter system, ignition, battery condition, charging on running
Exhaust- exhaust condition, free flow, under body pipe checks
Suspension and transmission check- transmission system condition, universal joints, clutch assembly, suspension system, rods and idler arm, springs condition
Interior features – audio system, steering wheel, instrument panel, AC, Heater, interior lights, glove box and other dials and knobs
Seats- seat upholstery, headrest and seat movement
Interior floor – carpet check, floor mats, door trim panels
Boot check – luggage compartment floor, luggage light, spare wheel and other tools
Door and window lock – automatic lock, manual lock
Along with the same, a used car is also checked for its paper-work so that the car is free from any theft or past accidental records. If a car successfully undergoes all the above tests and checkups, then only a car can be termed as a certified used car.
Difference between a certified used car and a normal used car
A certified used car is no-different from a regular used car which has already done a certain number of kilometers or it is certain years old. The only differentiating factor is the assurance of certification that you get from a certified used car which a normal used car does not accompany. A certified used car is offered for sale only after it has undergone multi point inspection along with paper clearances and has repair work done for any damaged or over used part. On the other hand, a normal used car is generally offered for sale as it is, without any documented inspection or repair work done.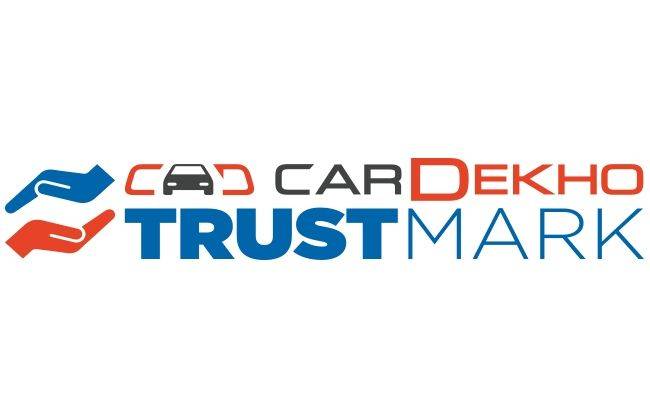 From where can I get a certified used car?
A certified used car can ONLY be bought through dealerships which are authorized to issue certification. Now, there are two ways to look at this. First, a lot of certified used cars are sold directly from the car manufacturer side through their showrooms and dealerships. This is done through a dedicated channel of a car manufacturer which performs its own level of inspections before putting the car up for sale. Common examples can be Maruti Suzuki True Value, Honda AutoTerrace, Toyota U Trust and Mahindra First Choice to name a few. They not only sell their own brand of used cars but they also list multiple brands as well.
The other mode of finding a certified used car is through a non-brand used car dealership which is certified by dedicated auto portals such as CarDekho.com. Through its TrustMark program, a used car is rigorously checked and it undergoes a detailed 120 point inspection. If the car is found to pass all tests, it is then allotted a TrustMark certification. You can easily spot a TrustMark certified car at a used car dealership through a TrustMark sticker or certification appointed on the top of the car.
How does a car qualify to be certified
First and foremost parameters for a used car to be a part of the certification process is its age and the number of kilometers done. Ideally, a used car is only allowed to be certified if it is less than 10 years old from the date of registration and it should have done less than 1,00,000 km on the odometer. Once the car passes that criteria it then undergoes multiple tests and inspection which varies for each certification authority. Typically these tests and checks cover car body, transmission, engine check, interior check, battery, brakes as well as car essential documents to name a few. (Detailed inspection points stated above)
A used car will NOT be certified under below circumstances:
If it is more than 10 years old or has done more than 1,00,000 km
If a car is accidental and by accidental it means the overall structure is heavily damaged and repaired
If the car is heavily modified with changes in stock exhaust, suspension, transmission and so on
If the engine or any other mechanical part is tuned or altered for performance or efficiency
If a car has no service history from its manufacturer authorized service centre
If the owner of the car fails to get car registration papers
If the car fails to meet quality checks as per certification guide lines
What are the Pros and Cons of a certified used car & warranty
Pros:
The peace of mind that comes when driving a trouble free car has its own advantage
Certification gives you the assurance that you are not being duped for a faulty car
An affordable replacement for buying a new car; certification and warranty are the major two assets that comes along when buying a new car. The same can now be achieved from a certified used car, so pay less and enjoy similar benefits that you get from a new car
Easy loans on a certified used car. Loan authorities prefer issuing loan for a certified used car more conveniently over a normal used car
Better resale. If you decide to sell your purchased certified used car further, one can enjoy the benefits that comes along with its certification in making a good deal when selling. Whereas, selling a used car post purchase may not fetch you good money
The benefit of getting a warranty. With certified used cars, buyers can also opt for an extended warranty on the purchase which further makes life easier for the buyer. Whereas, getting a warranty on a normal used car will not be an easy task.
Cons:
A bit expensive than a normal used car. Due to the additional inspection and cross-check paper work done on a certified used car, they tend to be more expensive than a normal used car. For Eg. If a Maruti Suzuki Alto used car is available for 1.25 lakhs in the market, chances are a certified similar make and model Alto will be available between 1.40 to 1.50 lakhs at a dealer.
You can't buy a certified used car from anywhere. If your distant cousin is selling his used Maruti Suzuki Swift, you cannot just go and get that Swift certified randomly. Certified used cars can only be purchased through exclusive car manufacturer dealerships or non-brand used car dealerships who are authorized to sell certified used cars.
Used car already under manufacturer warranty. If you are not considering to keep a used car for a longer duration, which is already under manufacturer warranty, then you can avoid spending more money going for a certified used car. Consider a scenario, if you have two options with you, a certified used Maruti Suzuki Swift 2015 model and a same used Swift 2015 model which is not certified. If the non-certified used Swift is already covered under warranty through its first owner (i.e. through manufacturer), then you need not spend extra amount on getting it certified again as the manufacturer will take care of its warranty bit. It is obvious that you will have to spend around Rs 25,000 -30,000/- more on a certified car, so why not save that money if you do not intend to keep a used car for long.
Be ready to compromise on choice with limited offerings. If you think getting a used car is difficult, well, getting a certified used car can seriously bring your hopes down if you are looking for options. Certified used cars can take away the liberty of going for a particular model, paint scheme or feature in mind. The fact that you are getting a genuine product can make you compromise on your choices.
Our view: Once you compare the disadvantages and advantages of buying a certified used car with warranty. One can realize that the extra amount of time and money spent along with a bit of compromise done on your choice can actually lead you to a purchase which is trouble free and can offer you a complete peace of mind. Not only this, it can be a longer companion for you with very little or no maintenance and if one fine day you decide to sell it again, it can surely give you better returns than a normal used car would do. After all, when you are spending your hard earned and valued money on a high value purchase, it's always better to be safe than sorry!
How does certification and warranty differ
Certification and Warranty are actually a part of an overall process which is done to ensure that you get the best deal when buying a used car, even after you have bought it. Certification in simple terms is a pre purchase mechanism whereas warranty is a post purchase add on. A certification involves careful multi point inspection and repair work of worn out parts, if required, which gives an assurance that a used car is trouble free. Whereas, a warranty is issued after a certified used car has been purchased/sold and it covers future repair or replacement of assigned parts in the warranty tenure.
Warranty is generally issued for a certified used car only, whereas opting for a warranty after the purchase is at the discretion of the owner. He / She might not opt for a warranty on a certified used car, but under ideal circumstances one should always go for a warranty post purchase to get a lot of additional benefits as well. The chances of faults arising in a certified used car are very less, in fact as low as 1% in certain cases, getting a warranty on a certified used car can further make things easy for you. You can also choose between different type warranty packages available in the market today. For example, opting for CarDekho TrustMark warranty, you can choose between an Engine + Transmission package as well as a complete Comprehensive package.


Above, you can compare between prices for different type of warranty packages and the components covered under the same. To understand its benefit better, consider a scenario that you have just bought a used Maruti Suzuki Swift Vxi for an amount of Rs. 5 Lakhs and further opted for a comprehensive CarDekho TrustMark warranty by paying a small premium of Rs. 5,999/- extra which will give you coverage for 1 year or 15,000 km, whichever is earlier. Now, buy getting a comprehensive warranty, in case a breakdown occurs in the given tenure for any of the above listed components which includes engine, gearbox, rear axle, steering, AC as well as the braking system to name a few, will be taken care of under the warranty.
Now, consider if you didn't opt for any warranty for your purchased Maruti Swift Vxi, here is what you might have to shell out extra in case any of these parts undergo breakdown in future.
Engine- Crank Shaft Assembly: Rs. 20,000/-*
Electrical system- internal fan alternator: Rs. 11,774/-*
AC compressor: Rs. 12,000/-*
Gear box-Clutch Plate: Rs. 3150/-*
*estimated price, does not include labor charges
The list doesn't stop here, you can even end up paying an amount exceeding lacs of rupees in case the car suffers any major breakdown of different parts in future. By spending a small amount initially on warranty compared to the risk of ending up paying mammoth costs listed above, you can easily drive in peace and be secured of any post purchase hassle.
Was this article helpful ?
0 out of 0 found this helpful