Rolls-Royce Phantom Limelight is designed for famous people
Rolls-Royce Phantom Limelight is designed for famous people
The Rolls-Royce Phantom is already one of the most exclusive cars in the world; the 110-year-old marque makes no secret of the fact that its clients may have their cars customized any way they choose, so long as it's technically feasible and legal. But if you're both rich and famous, that's another level of exclusivity altogether.The Phantom Limelight Collection ? a run of 25 specially-fitted Phantoms ? was "conceived for that select group of people who spend their lives in the public eye and on the world stage," the company says in a press release. That starts with the rear doors, which have been fitted with special compartments: on the ladies' side, room for jewelry, on the men's side, a concealed space for watches. Both sides have room for three fragrances in handmade bottles imported from France's Bresle Valley: one each for morning, midday, and evening. I'm not aware of anyone who changes their fragrance depending on the time of day, but then again, I'm not a billionaire socialite.The Limelight also debuts a new type of rear seat for the Phantom that's apparently been optimized for relaxation through consultation with medical professionals, featuring a motorized calf rest, a 27-degree incline, and foot rests that pop out of the car's floor. Naturally, the car features Rolls-Royce's trademark Starlight headliner, which uses fiber optics to create a star pattern above the passengers. (Spaced separately, it's a five-figure option.)You can choose the Limelight in one of two color schemes ? Light and Dark ? but as with any Roller, money talks; you can most definitely have it your way, as long as the price is right. The Rolls Royce Phantom is powered by 6.8-litre V12 petrol engine that belts out 453bhp and 720Nm of torque. The power is transmitted to the rear wheels via a six-speed automatic gearbox.The luxury car from the British car maker is an impressive 5842 mm long, 1990 mm wide, 1638 mm tall and has a wheelbase of 3570 mm. The car weighs more than two tons with the total weight being 2635 kgThe ARAI certified fuel economy of the Rolls Royce Phantom is 6.71kmpl and it has a 100-litre fuel tank giving you an estimated drive range of 670kms. The current generation Rolls Royce Phantom is the seventh-generation car which was first introduced in 2003. It was given a small makeover in 2012 with more visual upgrades making their way onto the car.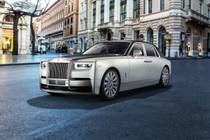 Rs. 8.99 - 10.48 Cr*
*Ex-showroom Price in
New Delhi
Rs.
89,900,000
*
EMI:

Rs.

19,61,614
Rs.

10,48,00,000

*EMI:

Rs.

22,86,636

Pay 1,49,00,000 more to get

Rear Path Prediction
Additional 250 mm of legroom
Navigation System
Trending Rolls-Royce Cars