What's the use of Forms 28, 29, 30, 35 of RTO?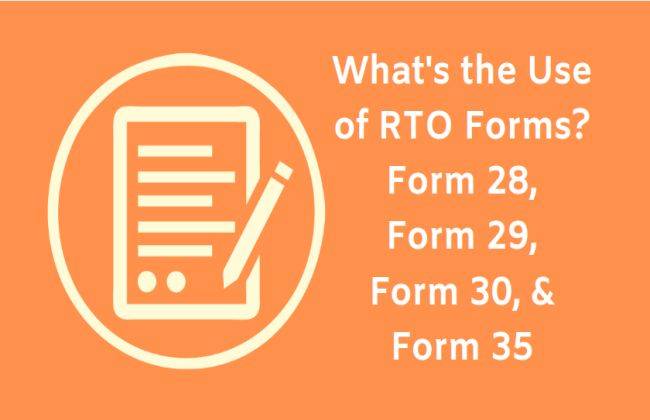 The special Motor Vehicles Department, which was established under section 213(1) in the category of Motor Vehicles Act, 1988 is an act that is applicable all across the country. The department of Motor vehicle is accountable for putting into effect different conditions of this act. The Transport Commissioner heads this department and enforces all these acts. Different states and cities have their individual Regional Transport Offices. Each R.T.O has to carry out all the activities and functions which are present in the Motor Vehicles Act, 1988.
What are the different functions performed by RTO
The different actions conducted by the RTO offices in diverse cities are tax collection of vehicles, registration of motor vehicles, issuing of licenses of both light and heavy vehicles, organizing driving tests for learners, renewing the driving licenses, transfer and re-registration of vehicles, validating and keeping a proper check on the insurance of motor vehicles, keep a proper pollution check, allot fitness license to motor vehicles, issue international licences and symbol badge to the drivers offering public services like driving auto-rickshaws or taxis.
Forms issued by RTO for selling the used car
There are few that are issued by RTO and are mandatory when you are disposing off your used cars. These forms take in Form No. 28, 29, 30, and 35. These forms are available in the local RTO office but if you want them online they can be downloaded from the website named VAHAN. An individual is required to submit the copies of these after completing all the fields. Only then will be the sale process of the car defined complete.
Form 28
Form 28 involves acquiring (NOC) or a No Objection Certificate of your car from the registering authority. It is needed to affirm that you do not hold any liability which will deny you from lawfully selling your vehicle. Form 28 completely assures that every authenticity that entails your car has been well taken care of and is an indication that there are no pending challans, taxes, or any accident or criminal activities involved with your vehicle. When you have to sell your vehicle, you require a minimum of 3 copies of Form 28.
Form 29
Form 29 is needed when an individual has to report to the RTO that your car is sold to the third party. You require 2 copies of Form 29 and in this form, it is explicitly stated that the owner has submitted all the documents related to the car like the insurance, RC, and PUC to the customer who has bought the car. Even this document is available both in the local RTO office and can be downloaded as well.
Form 30
To confirm Form 29, Form 30 is required. After reporting to the RTO that your vehicle has been sold, it is necessary to inform the concerned RTO that the transfer of the vehicle to the new owner should be done on an urgent basis. It is clearly stated in this form that all the legalities that involved this vehicle are the headache of a new owner. This form should be submitted to the local RTO office within 14 days of the deal of your vehicle. You require 2 copies of Form 30. The form is available both online and offline.
Form 35
This form is requited in case your car is financed. It is NOC from your local bank and Form 35 is required to effectively complete the transferring process of your vehicle. It will eliminate 'Hypothecation' from the RC and this will show that you have cleared all your loan, which you took to buy the vehicle.
Also Read:- Documents Needed to Sell Your Car