Want Instant Money For Your Car? Sell It At CarDekho Gaadi Store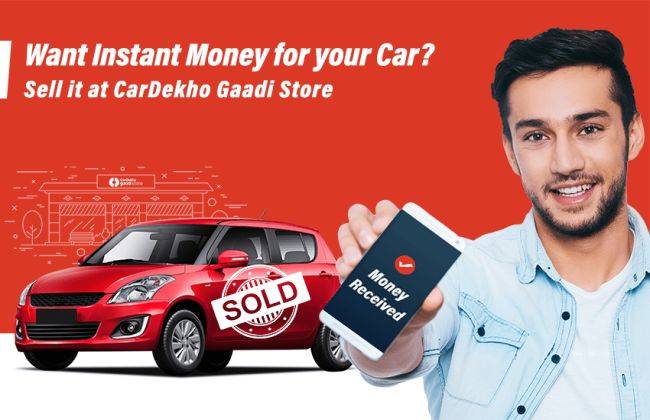 One of the prime concerns associated with selling a used car is money. Most of the people are skeptical about whether they will be able to get a good deal or not. But then the problems related to car selling don't end here as getting the payment in your account is in itself a struggle. You might be able to get a decent value for your used car but then the buyer can turn around and say he/she would not be able to pay the money upfront and you should allow him/her to pay you in installments. Many buyers will give you a portion of the total price (say 30%) while promising to pay the remaining 70% a month or two after. If you are selling your car to somebody known then the situation becomes even trickier as you might not be able to say no to their request of postponing the full payment. We get into details of some of the most commonly occurring situations related to price and help you understand why selling your car at CarDekho Gaadi is far better option.
1) Selling your car to Somebody Known
If you choose to sell your car to a close friend or relative, you will not go through the hassle of searching the buyers and that is indeed a positive thing. However, there are other sets of challenges that you have to face, especially on the price front where the situation becomes quite tricky as you find yourself in an awkward position during the price negotiations. This is because you cannot behave like a professional as the person is known to you and your friendship or family aspect comes into the picture. Further, if your friend or relative says that you are asking for more price than your car deserves and you should decrease the price, you might not be able to argue much. Even more problematic is the situation when these people press hard on you to take partial payment for your car while promising that the rest of the amount they will pay soon. In such a situation, you will find yourself in a tight spot and saying no to them might not seem to be a feasible option. This is especially problematic if you are in need of urgent money and hence, we suggest you not to take this path for selling your car as it will have issues related to price negotiations and getting the full amount upfront.
2) Selling the car through Dealers
Another feasible option to sell your car is to approach used car dealers. These dealers will help you find an eligible buyer for your car and unlike the individual selling process where you need to put a lot of effort in prospecting and searching for an eligible buyer, dealerships make easy work of it. However, selling your used car through dealers comes with its own set of challenges. Like RC transfer (who will be responsible for it), money transfer (will you get your money in one go or will you be paid in installments), is it a trustworthy dealer (what if something happens to my car, like it gets stolen or if the new buyer gets involved in an accident/hit and run case, who will be responsible?), how transparent is he/she in the dealing (what if the dealer is making false claims about the condition of the car to make more money from you), the amount/percentage of commission they will charge from you (different dealers have different charges for their services. What if the dealer you've gone to overcharges you). This extended list of questions and issues are involved while selling your car to a local car dealer.
3) Online classifieds and Social Media Route
Selling the car on online classifieds and social media is also a popular method people use to sell their used car; however, this method not only takes a lot of effort in terms of prospecting and selecting the right kind of buyer not just that it one of the most time consuming ways to sell your car. If you are looking to get instant payment, you might want to look at other options. Selling your car via classifieds or social media groups would mean that you'll have to meet a lot of people, go for multiple test drives, engage in long conversations, answer questions about your car, negotiate with each individual who shows interest in your car and more. Plus there's the matter of payment and RC transfer at stake. Platforms with classifieds will offer only so much of assistance. You'll have to do most of the work here.
4) CarDekho Gaadi is the One-stop Solution
CarDekho Gaadi has revolutionized the car selling process as it is one of the biggest car-buying process available in India. It has the advantage of speed, convenience, safety, and more importantly, the brand provides you the best deal for your used car. All you need to do is to go to the website (Cardekho.com) and get an estimate of your used car by filling the required details. Next, book an appointment for the nearest CarDekho Gaadi Store. You car will then be inspected by expert evaluations post which the dedicated team at the store will connect with the largest network of verified buyers (5000+) and get you the best resale value for your car. You agree to the price, sign the documents and you'll get instant payment for your car directly into your account. The process is completely transparent, hassle-free and fast.
Read Also:- How and Where to sell your used car?