Mistakes You Should Avoid while Selling your Car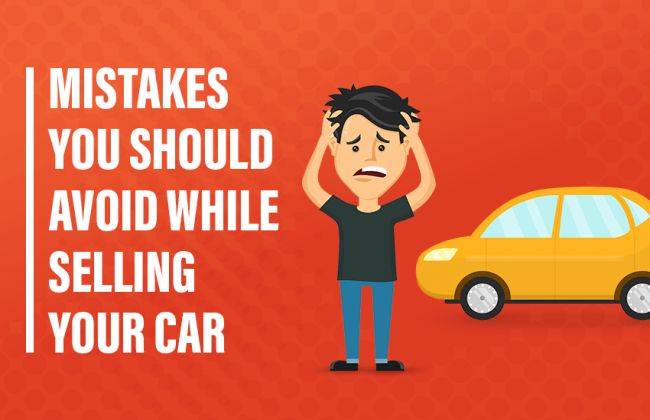 We are sure you remember the sweet memories of bringing your new car home. The way its color mesmerized you, the fragrance of interiors that engulfed you, and the slick, seamless manner the transmission worked – all those moments are still fresh in your mind. But now, it is equally true that your car has aged. It has run its course and now the time has come to say goodbye. As you decide to sell your car, the one fundamental thing that will keep on bothering you is the price. In how much I should sell my car? Will I get a good price for my car? What if the buyer doesn't agree to pay what I deem a right price? All these and many more questions specifically related to price will be a major trouble area for you.
Important Facts
With the passage of time, the value of a car depreciates – it is a hard fact and nobody can deny it. A car's value is essentially a function of its year of manufacturing, kilometers driven, wear and tear it suffered, and condition of its exteriors and interiors. Besides, the popularity of the model in the market also determines the resale price of the car to some extent. While you cannot change some of these factors (model year, odometer reading, mechanical erosion), you can certainly take some steps to address issues like dents on the car's body, keeping a record of its service history, and cleaning the soiled interiors. These small and incremental measures will help you to claim the best price for your used car. We discuss below in detail three mistakes that people usually make while selling their used car.
1) Not maintaining the Service Record
Your chances of getting a good resale value increases when you have properly maintained service record of your car. It acts as a surety for the buyer that the car has been taken good care of and it is a worthwhile purchase. You can always show the prospective buyer the history report of the car and get an advantage in negotiations. By presenting a service report what you are essentially doing is eliminating speculations that a buyer could have regarding the history of your vehicle. This documentary evidence is psychologically reassuring to buyers and confirms that nothing damaging had happened to the car in the past.
Now maintaining the service record of your vehicle is not something that requires huge efforts on your part but still, we don't keep it as we don't feel it is important. You could certainly sell your car without service record but you won't get that extra advantage in the price during negotiations. Therefore, if you are also planning to sell your used car, make sure you have its well-maintained service record. If you don't have one, you can ask your dealership or service center for a history report which they can easily provide to you.
2) Heavy Customization
Once you start negotiating with the buyer on the price, every rupee will be contested very strongly by both the parties. If you have customized the car with a lot of bells and whistles – a pair of bumper guards, extra chrome slatted grille, door visors, roof rails, rear spoiler, a body kit, and a lot more – you will ask a higher price to recover the extra investment. As a result, you will potentially limit the number of buyers who are interested in the deal and this number will keep on decreasing once the price goes up. You should acknowledge the fact that people in the used-car market are more practical in their approach and don't want that "extra cool stuff" feeling from their cars. So try and keep your car as simple and clean as possible or don't go for too many modifications. There's a third option as well, do all the modifications you like, enjoy them and then make peace with the resale value you get.
3) Scratched Exteriors and Soiled Interiors
While you shouldn't spend extra money on the customization, it will be a mistake on your part if you leave the scratches on the body of the car unattended. Many owners think that their car is running perfectly alright – its engine is working fine, the transmission is shifting seamlessly, and the suspension system is making light work of road undulations. So, why should I bother about the small scratches on the car's body? It's not a right pattern to think and you must remember that despite the good running condition of your car, even a couple of visible scratches on exteriors can easily reduce the price of the car by a certain margin. Similarly, if the interiors of the car are soiled, its upholstery is in bad condition, and the dashboard has lost its sheen, you are sure to lose on a few thousand during the deal. Therefore, it is recommended that you take care of both the exteriors and interiors of a car.
Also Read: Demerits of Selling your Car to a Relative or Friend