BS4 to BS6: Understanding the Implications of Structural Changes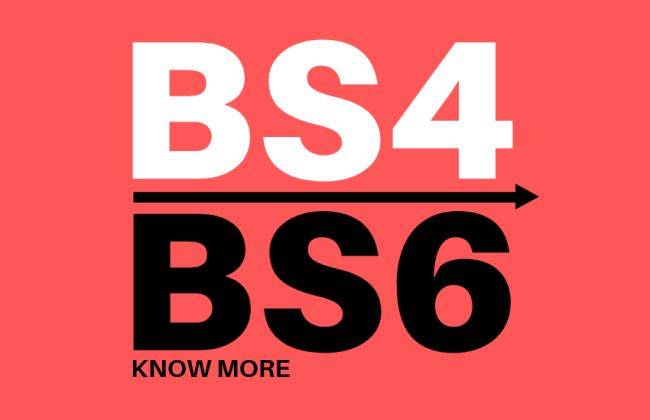 The Indian automobile industry is all set to make a transition from BS4 to stringent BS6 emission norms from April 1, 2020. This will be aligned with the directions of the Supreme Court of India and the Indian government's decision to skip BS5 norms and leapfrog directly from current BS4 norms to BS6 standards. Just so you know Bharat Stage (BS) emission norms are based on the European Emission Norms (Euro Norms) and have been adopted to control vehicular emissions in the country.
BS norms: Past and Present
The Indian government rolled out BS norms first in 2000 and subsequently its advanced iterations came into effect in the form of BS2 and BS3 in the year 2001 and 2005 respectively. However, the imposition of BS4 turned out to be a game-changer as it was for the first time that the country capped emission levels equivalent to global emission standards, i.e., BS4 became equivalent to Euro4. In the year 2016, the Government of India decided to skip BS5 norms and directly shift from BS4 to BS6 by April 2020, thereby signaling a major shift in the country's transportation policy. Some of the major reasons that helped the political dispensation to go ahead with this bold move include factors like dangerously rising vehicular pollution, India's commitment to reverse global climate change, and rising environmental awareness in the country.
BS4 to BS6: What's the difference?
Before we analyze the implications of a shift from BS4 to BS6, it is important to understand the primary difference between standards of these emission norms. The BS6 has only 10 ppm (parts per million) of the sulfur content while in BS4, 50 ppm of sulfur content is allowed. This means a shift from BS4 to BS6 will translate into five times reduction in sulfur content which is indeed a considerable reduction.
The BS6 will bring down the emission of nitrogen oxides as much as 70% in the case of diesel vehicles while in petrol cars, 25% reduction in nitrogen oxides will be achieved. The BS6 standards will also mandate all vehicles to have an on-board diagnostic (OBD) and real driving emission (RDE) system to help track the emissions on a real-time basis. In addition, diesel vehicles will have to mandatorily integrate advanced technologies such as selective catalytic reduction (SCR) and particulate filter (PF) to further reduce their emission levels. In sum, the BS6 will involve a host of mechanical and technological changes in vehicles that will help cars to emit less and emerge as cleaner vehicles.
Effect on the automobile companies, customers, and oil marketing companies
Thanks to the integration of advanced technologies in vehicles to bring down emission levels, the transition from BS4Effect on the automobile companies, Customers, and oil marketing companies to BS6 is a resource-intensive process. The car manufacturers will have to invest heavily in order to revamp their existing infrastructure and upgrade their engines to meet BS6 emission norms. The investment is especially consuming in case of diesel vehicles with prices of diesel cars are expected to shoot up at least by 30-40% of their present cost. This means a diesel hatchback costing Rs 6 lakh at present will be retailing around Rs 8 lakh in its BS6 avatar which might make it financially unviable for customers – after all, spending 8 lakh on small diesel car doesn't sound like a good idea, especially when one can buy a three-box petrol version at the same price. This is the reason why many major auto companies including Maruti-Suzuki have announced their retreat from the small car diesel segment from next year when these new norms become applicable.
On the customer side, prospective buyers are holding back on their investments and have decided to delay their purchase decision until the next year – it's natural for buyers to wait for few months and then purchase BS6 car next year than to spend on BS4 cars now. However, this conscious decision to delay the purchase has spelt out trouble for manufacturers with unsold BS4 cars stocks have started piling up, thereby straining financials of manufacturers, dealers, and other allied channel partners. Now in order to clear the old stock before April 2020, most car companies are resorting to heavy discounts and offering many attractive exchange schemes to lure buyers.
This transition will also have an impact on oil marketing firms as all the major players including state-owned companies are racing against time to upgrade their fuel quality to match the operational requirements of BS6 engines. BS6 engines can't run efficiently on the fuel currently being used in BS4 vehicles, and hence oil companies have a herculean task of upgrading fuel to match BS6 engines and that too before the April deadline next year. Like automobile manufacturers, oil marketing companies are also investing heavily in upgrading their refineries to produce BS6 fuel. This is expected to have an inflationary effect on the prices of petrol and diesel with customers needing to shell out more for refueling their BS6 cars.
Can I drive BS4 vehicle on BS6 fuel?
In the case of a petrol car, you can easily drive BS4 vehicle on BS6 fuel without any considerable effect on the engine. As the BS6 fuel has less sulfur, the emission will be reduced although this less sulfur content might negatively impact the power output and fuel-efficiency of the car, albeit marginally. However, the situation is quite tricky in case of diesel where BS6 fuel owing to its reduced lubricating property could have a negative impact on the working of fuel injectors that could lead to issues with normal working of a diesel engine. Fortunately, the problem can be tackled by using fuel additives which can enhance the lubrication and help prevent any premature damage to a BS4 diesel engine.
Overall, the decision to shift from BS4 to BS6 is a historic one and will go a long way in order to address the issue of rising pollution in our country. Yes, this transition will have its own share of pains especially for the manufacturers and oil companies but in the long run, this structural reform will help the automobile business to remain relevant and sustainable even amidst rising environmental concerns.
Also Read:- Motor Vehicles Amendment Act 2019: Heavy Penalties to Ensure Greater Compliance