The Best Hot Hatch!.
I own a 2017 Volkswagen Polo GT 1.2L TSI. It has a 7-Speed Automatic DSG transmission, which is a dual-clutch transmission, In the normal driving mode, the gear shifts are so smooth and fast, you don't realize them, and is obviously a joy to drive in city traffic. But as soon as you put the car in sport mode, or manual mode, it is a whole new animal. The engine will rev around 6000 RPMs without shifting, and the car feels very lively. I have done around 39500+ KMs on this car. The only modifications I had done where powder coating the alloy wheels to black colour, and a matte black roof wrap, and a performance high flow air intake. If I rev the car till 4,500 RPM you can hear the air gushing in the air intake. A lot of people complain, that the design has dated, but to me this is one is of the most iconic looking cars in India. The Polo is based on a Global Platform, and thus it is the safest car in it's segment, the build quality is absolutely amazing. The door is quite heavy and has 3 way opening. When it comes to performance hatchbacks, I think the only sensible choice is the POLO GT (if maintenance is not a problem for you), I considered the Baleno RS also, But it has a small 1.0L 998cc Turbo-Charged 3 cylinder engine. The acceleration from stand-still, and in-gear accelerations of The POLO GT TSI are the quickest in the Class, thanks to the DSG Gearbox. The only problems I faced with the car, were the high cost of spare parts, and expensive yearly maintenance. I suggest you to negotiate well, as the Volkswagen Dealerships are offering huge Discounts and free accessories on the account of the festivities.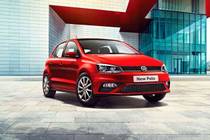 1 Offer
On Volkswagen Polo :- Special Price @ Rs. ...
15 days left