Volkswagen Ameo (Petrol) - A new showstopper in the market.
I was looking forward to buy a German make in the month of May exchanging my 2008 Zen Estilo LXi. I headed to the nearest Volkswagen Kolkata for a test drive of Polo and heard that a new vehicle is on the way, Ameo. So, I waited for a month and got the news that it is now available. Finally booked it in the month of September and got it delivered. The Ameo that I have been driving is a 1.2 MPI Comfortline with 74bhp and 110Nm torque. First things first, driving a VW after a Maruti is a buttery feeling. The steering feels so light that you could even turn it with a finger without giving it pain. The body structure is similar to that of Polo with just an additional boot space to give it a sedan look. The interior space is same and the exterior is just an inch longer than the polo. Build quality should not be questioned because it's a German and the perfection to details is appreciable. Boot space is quite good though I haven't got a chance to test it. Other storage spaces are quite good especially the two sections right before the gear knob. Handling is superb even short corners doesn't seem to be a problem. Giving Bluetooth connectivity and all 4 anti-pinch one-touch power windows were a very good feature to think of as these are not available in the Comfortline Polo. Braking is fantastic. The disc brakes work just perfectly giving you a guaranteed stop anytime any moment. Coming to the points that really disappointed me. The car lacks power. I tried to clock it over 120km/hr but it was too hard to do. The torque doesn't support. When you speed up at around 90km/hr, the car produces a sound as if it is a racing car. Next is the rear seat. The transmission tunnel bulges out in a such a way that it makes the car a 4 seater unless you have a kid sitting there. Talking of kids in the back seat, you won't get a child lock and according to VW's door mechanism even if the door is centrally locked anyone can open the door from inside just by pulling the lock. So, it was a problem from me even when I have got no kids in my house. Lastly, the mileage. After running for 2200kms, I could barely manage to get a mileage of 12kmpl in city (My Ameo is not used for highway driving). Though the active mileage while driving showed that it has reached 13kmpl. After the launch of the diesel version, I seriously got jealous of those prospective buyers who will now have a chance to test and judge between the two. Diesel version is definitely a much better option on the basis of performance. It's 108bhp and 250Nm torque, and the AMT version will definitely win the race anytime. So, anyone who was considering to buy a compact sedan and did not have a German option, well, Ameo is the option now. This car should not be considered as a car to do race with. It's a good city car for short journeys and a pretty decent car to be the first German to own.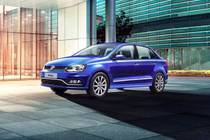 1 Offer
On Volkswagen Ameo :- Special Price @ Rs. ...
22 days left