Toyota Innova Crysta 2.8Z a car not to buy.
Hi
I am Gurpreet from Dhanbad, Jharkhand. I had bought toyota Innova Crysta 2.8Z AT in october 2016. At the time I bought the car in an exchange of my XUV500 W10 also bought in 2016. I bought the car for a change in drive, handling and braking. As I am a Business man I have to travel a lot on highway from my city to Kolkata and due to traffic and regular drive I choose AT top model 2.8ltr engine. When I first drove the car it seemed to be mot practical car for highways as the drive quality was very good and the most of the needed thing on highways was braking system which was very up to the mark. In the first month I was very fascinated about the car as it was my first AT. I used to drive a lot and I am driving lover I use my car regularly on highway with a very pleasant speed of about 100-120km/h.
On the first month while I was coming back from Kolkata I stopped at my favourite spot to have some food, what I looked at was shocking one of the tire had a bubbles on the side. I was shocked as the way was very smooth and was driving at a speed of 100 on highway without any potholes. I changed the tyre and came back to my city. Next day I visited to the showroom/workshop and just showed up the tyre. They took some photographs and said will let you know soon. It took them a lot of time and I had to call them many time for any further reports on the tyre. Still there was no response and then I had to talk to their GM for this they said "Sir aapka tyre change nahi hoga fir bhi hum dekhte hain". I just got angry what ever you want to do please confirm on mail. They again took some more days different types of harrassing questions "gadi kahaan chala rahe the" "highway pe ghadde hain kya" all sorts of silly questions.
They took more than 50 calls for the tyre and about three months at last they changed the tyre on 1st march. When I came to know from their staff that there are many complaints about the tyre (still they harrassed me so much) and the company has changed the tyre and alloys size to 16".
Again after some days I had to go to kolkata on 12th march for some family trip. Usually the rest days after service i drove the car in city which could not check the other problems. On 12th as soon as I drove the car on highway the car made a speed of 120 as the roads were empty because of HOLI festival as soon as i hit the brakes the car started shivering like and old Auto Rickshaw. I was shocked and was terrified I drove the car slowly at a speed of 60-80 and reached kolkata and came back on tuesday 14th. I took the car back to the Toyota workshop as explained the problems. At first they said Brakes Disk were out of order and brakes pads will also have to be changed. I was shocked at 10000km disc and brakes were out of order. They said rest we will see. they said they will charge in the start and after a long debate they came to a free change but only disc not pads. Again I went inside the workshop and had a chat with some staff then they enclosed that there are many complaints in this car tyres bursting and brakes complaints are regular. I was just shocked to hear that after the disc change I did not drove the car by my self to my home. I rather gave my car to someone and took an another car back home.
Its my humble request to toyota please do not play with peoples lives take your cars off the roads as they are dangerous with such a powerful engine and a faulty brakes and tyres.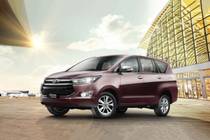 Rs. 15.36 - 23.02 Lakh*
in