Tata Nexon review after one month / 1600km
I bought my Nexon XZ+ on the second day after its launch. Yet the waiting period was two months. It reflected two facts. One- Nexon is going to be the hit. Second-Tata yet to improve on many other factors than product alone...like supply chain, production line management, sales and service, etc. Coming to the driving experience. It's simply awesome. I have driven many Tata vehicles in past and this one is beyond the expectations. The vehicle is heavy and that results in stability at high speeds. Yet it's powerful enough to leave behind the traffic. Besides, you have an option to choose between the fuel efficiency and power. Another plus point. I was able to reach 140 easily, with the vehicle fully loaded to its capacity (ofcourse with power mode). About looks and performance - smashing. Couple of times we found people even clicking selfies with the vehicle when parked in public parking spaces. Suspensions are superb. Found it comfortable enough to drive for 6 hours straight. My parents are 60 plus never complained about rough terrain, even though we travelled some rocky roads of waynad. Although the smooth suspension cause a little roll over at curves at high speed. But not a concern at all. Pros - 1. Looks, 2. 6 speed gear box gives you better choice of suitable gear at any given speed. 3. Drive modes gives you the flexibility of suitable option matching your driving style. 4. Weight gives you stability at high speeds 5. Turbocharger gives the needed extra power and you feel that after driving other competitors vehicles. 6. Boot space is the largest in the segment except for duster. 7. Ground clearance is highest in the segment. 8. Cost effective. Cons- 1. Petrol version should have been 4 cylinder for lesser vibrations. 2. Owner's manual does not touch up upon many things. Tata need to improve a lot on these small aspects. 3. The steering beam is very close to the clutch and brake pedal, with its couplings exposed. I am not an expert, but this concerns me a little. 4. Did I mention that the position of sixth gear in Nexon is actually the position of reverse gear for other cars..? That means, if you drive Nexon for couple of years, I am sure you need to be extra careful while driving any other vehicle or else you would be in serious trouble. 5. The owner's manual does not talk about the Anti theft security of the vehicle. Don't know if there is any such system (impact sensors, motion sensor, etc) installed in it or not. 6. No telescopic adjustment for steering.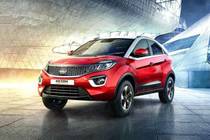 2 Offers
On Tata Nexon :- Cash Benefits up to Rs. 2...
7 days left