Please Read Before You Buy!
Please Read Before You Buy!
Excellent work by Tata! I heard a lot of negative comments from some users before buying. But now I understand there are a lot of people who don't know what essential things are required in a car apart from its features. And TATA NEXON has succeeded in fulfilling the exact needs of a good driver. I currently have the XM variant and I don't think someone can suggest a better car in this price range(except some who looks for some ridiculous features without even acknowledging the quality and safety provided in the car).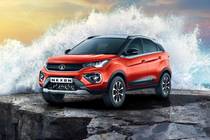 Rs. 7.28 - 13.23 Lakh*
*Ex-showroom Price in New Delhi
Rs.9,99,900*EMI: Rs. 22,497
17.2 kmplManual
Rs.8,58,900*EMI: Rs. 18,640

21.5 kmplManual

Rs.9,51,400*EMI: Rs. 21,879

Manual

Rs.9,99,900*EMI: Rs. 22,917

Manual

Rs.10,13,400*EMI: Rs. 22,928

Automatic

Rs.10,60,400*EMI: Rs. 23,971

21.5 kmplManual

Rs.10,63,900*EMI: Rs. 25,252

21.5 kmplAutomatic

Rs.11,35,400*EMI: Rs. 26,808

21.5 kmplManual

Rs.11,52,400*EMI: Rs. 27,184

21.5 kmplManual

Rs.11,73,899*EMI: Rs. 27,702

21.5 kmplManual

Rs.11,97,399*EMI: Rs. 28,216

21.5 kmplAutomatic

Rs.12,00,400*EMI: Rs. 28,258

21.5 kmplManual

Rs.12,14,399*EMI: Rs. 28,592

21.5 kmplAutomatic

Rs.12,17,400*EMI: Rs. 28,634

21.5 kmplManual

Rs.12,30,400*EMI: Rs. 28,911

21.5 kmplManual

Rs.12,33,899*EMI: Rs. 29,029

21.5 kmplAutomatic

Rs.12,47,400*EMI: Rs. 29,287

21.5 kmplManual

Rs.12,62,400*EMI: Rs. 28,491

21.5 kmplAutomatic

Rs.12,63,899*EMI: Rs. 29,682

21.5 kmplManual

Rs.12,79,400*EMI: Rs. 28,872

21.5 kmplAutomatic

Rs.12,92,399*EMI: Rs. 30,319

21.5 kmplAutomatic

Rs.13,09,399*EMI: Rs. 30,695

21.5 kmplAutomatic

Rs.13,23,899*EMI: Rs. 31,009

21.5 kmplAutomatic