Are U thinking to buy a Tata Manza? Go for it!
Hello Folks! I am really eager to share my experience with Tata Indigo Manza. I already had a hatchback before and wanted to go in for a sedan this time around. I had Swift Dzire, Fiat Linea on my mind and of course Tata Manza as well. I went for a test drive of all three vehicles as I feel this is the best way to judge the performance of a car as you can have a look and feel and see if it meets your priority. I found all three cars to be good, but Dzire had space constraints, while Linea was expensive for me. So, I finally decided on Tata Manza. It has been 4 months now and trust me its a great car. Before i bought the car I read a lot of reviews on the Internet saying that the after sales service is not good and all that. But, I have not faced any problem on that front and i don't even think that, that could be an issue when it comes to Tata Motors. The drive of the car is fun and enjoyable. The moment you step into the car, you want to drive it immediately as the interiors are classy and very comfortable. The instant you step in and place your leg on the clutch to put the car in first gear, you would not realize when it actually caught with a superb momentum. I mean the transition is so damn smooth and water-like. Power steering, AC, seating, gear-shifts every basic feature works great. The mileage I have been getting till now is 17 kmpl which I feel is great as compared to other sedans in the entry level segment. Also, the best part is the affordable and economical price range that this sedan offers. Truly, a great work by Tata motors. I wanted to write this review as could not find the right things written about the car, that should be. So, I thought why not I take this step. I had first seen Manza on my city's road and was quite taken aback by the looks, at that time I thought that this would be an expensive car and just wished if could afford it. But, was pleasantly surprised to know that it was so cheap and so adorable. I just love my car and am fond of it. Hope this review of mine helps those looking forward to buy a Tata Manza.
Write your Comment on Tata Manza
1
g
gopu
Oct 22, 2015 11:25:17 AM
Hello friends it's my experience if you like to buy a family car Tata manza is the only best choice for ever. 1st I plan to buy dezire or xcent , amaze but once I drived I feel Manza is the great choice for us. I drived local and Highway feel superb.
Reply
1
p
premanand
Nov 1, 2010 4:27:08 PM
amravati jayka moters reprsentive says us mileage of manza is about 17 is that true?
Reply
1
m
murugesan
Oct 26, 2010 1:04:43 PM
anybody bought this car recently within this few months and share their experience? I am planning to get Manza Diesel shortly. kindly suggest....
Reply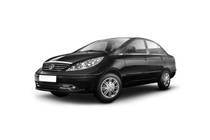 This car model has expired