A Massive beast of a Crossover..
Being a very recent owner, it may be too soon for me to write a detailed long term drive review. But I'll be glad to share my rationale for deciding on Tata Hexa, which may help some of you wanting to buy a Seven seater SUV for long drives (and sometimes within the city).
After weeks of comparison and test-drives, I found Innova too over-priced (my budget was 16-17 lacs), XUV too under-premium from interior and loud from the exterior (doesn't exude class!), BRV, Ertiga too less of a road presence and Scorpio, just too rugged for family and long drives. Hexa out-classed all of these in terms of everything i wanted. Great value for money. Unsure about it's resale value as if you see, there arent any second hand Hexa's out there which says that people arent selling this car (considering it launched in Jan 2017) whereas see the number of Innovas' in the second hand market! Take a guess.
Having said all the good things, i did have a bitter experience at the start. The underneath of the car (engine sheet) was damaged when i received it. When notified the Tata dealer, they agreed to repair it at no further cost to me. So all fairly done there as well.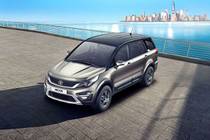 Rs. 13.26 - 18.83 Lakh*
in