Truly Superb! I am specifically writing about Manual Transmission...
Look and Style Very classy and posh. Feels so perfect. I am in love! Comfort Lots and lots of space. So quiet inside the car, you feel like you are in your own world, isolated from all the outside noise. Pickup My petrol car (1.8 TSI MT) has incredible pickup, I tend to shoot like a rocket when I get stuck among other cars/bikes while waiting for the green light. Mileage I have had my car for only about a week--but the mileage can't be much more than 9.5 kmpl in the Hyderabad traffic. Best Features This is a long list.... Automatic climate control, Plenty of space, Moon/Sun Roof, Parking assist, Self aligning headlights, Innovative boot design (sedan/hatchback style dual operation), Pleasing lights inside, Rear window curtains for privacy etc. etc. Needs to improve One minor glitch in my Skoda Superb is that the fuel gauge suddenly drops to Empty position at times. Don't know why! The car is a complex super-machine and this is probably one of those 'software bugs'. Overall Experience Very positive so far. I think I eliminated a lot of heartburn by going in for a manual transmission. The complex and sophisticated DSG gearbox is probably not safe in the hands of Indian way of driving. Our drivers (professional drivers) are adept at manual gearboxes, but I don't think they give respect and tender loving care to the sophisticated DSG technology. Add to this, our pot-holes and crazy traffic conditions and its no wonder the DSG-equipped cars are failing. But I believe that owners need to be truthful and honest when it comes to the issue of who should pay for the costly repairs. I side with Skoda the company for standing firm on principles. I don't want the Skoda/VW DSG engineers to get fired just because their design is failing in the hands of Indian drivers! My own advice (which I followed) is to keep matters simple and go in for manual transmission (the 'KISS principle').
Write your Comment on Skoda Superb 2008-2013
1
A
anonymous
Apr 8, 2014 2:18:49 PM
congrates on your new car how much did it cost u? which year model did u pick u up? can u r share some details?
Reply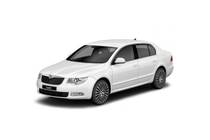 This car model has expired