Maruthi Celerio ZXi (AMT). The Best Car for Easy Driving
Maruthi Celerio ZXi (AMT). The Best Car for Easy Driving
I purchased this car on August 2017 and covered 9,800 Kms till date. Average Mileage at initial stage 12.2Km/L and is gradually increased to an average 17.6 Km/L at present.
Main features noted for easy driving of this Maruthi Celerio (AMT ) are
1) Automatic Gear Shift is very useful for beginners, ladies and non experts (mainly in gear shifting) etc., (the engine do not take any off even the vehicle moving at slow speeds). But It is noted that in Automatic Mode, speed increases slowly as compared to Manual Mode. The maximum speed in automatic mode is 60 Km/Hour.
2) If you are an expert driver you can change the Mode of Drive in to Manual Mode (or Mixed with Automatic & Manual Modes) according to the Conditions of the road, Traffic, Speed of the vehicle at the time of Overtaking etc., The speed can be increased above 60Km/Hour by using Manual Mode. The vehicle can drive better than an ordinary Geared Vehicle with less effort.
3) Maruthi Celerio (AMT ) can shifts gear (in manual Mode) very quickly as compared to any ordinary Geared vehicles. More over the Gear can changed to Manual to Automatic / Automatic to Manual during running quickly without any breaking. In running if the gear is accidently shifted to Nutral position (in Automatic Mode) can bring back to Automatic Mode position without stopping the Vehicle. (Remember that accelerator pedal may be released during shifting of gears as well as shifting of Modes of Automatic and Manual etc.,).
4) There is no worry about down shift of gear when vehicle needs a sudden braking in Manual mode because the vehicle automatically reduces gear to the lowest level according to the speed. Similarly if you required to reduce the speed (in Manual Mode) of the Vehicle from Maximum to a Minimum speed at a short time such cases shift the gear from Manual Mode to Automatic Mode instead of reducing gears by manually.
5) You may also remember that AMT operation for different vehicles are different but Maruthi Celerio (AMT) Gear modes are designed as user friendly.
6) Using the techniques as explained above and other experiences during driving we can drive this vehicle with tension less and more comfortable than Geared vehicle.Defects noted: 1) The design of Back seat is not comfortable for long Journey because it is flat type (not bucket type). The back seat of Maruthi Alto (Eg: model 2009) is much better than this seat for long Journey. 2) Mileage is not sure as claimed by the company (23.1Km/L).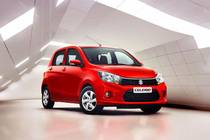 1 Offer
On Maruti Celerio :- Consumer offer up to ...
13 days left