Rexton RX7 True Feedback
Rexton RX7 True Feedback
Before I proceed I would like to mention that I read almost all reviews & watched all videos of Rexton of all generations across worldwide websites and not just on Indian websites. Off course my first choice was Fortuner but thanks to its long waiting period that gave me the chance to drive Rexton in between and changed my decision forever. Also, I took test drive 4 times of both vehicles before concluding RX7 as my SUV. Also, the Price was never a factor for me to chose Rexton above Fortuner but it does play an important part if we start comparing the features of both SUVs. Look and Style; There is no doubt that RX7 is one of the best looking SUVs available as of today. If you compare it with Fortuner, Captiva or SantaFe. I may only consider Fortuner as the only competitor, however, I chose RX7 coz in my city (Gurgaon, Haryana) every second SUV is Fortuner and I am really sick of its looks, secondly Rexton may not look aggressive like Fortuner but it's bigger than Fortuner & more subtle lines & chrome unlike flashy chromes of Fortuner, that's the only reason RX7 gets all head turns towards it by all Audi, BMW & Fortuner owners off course. LED Lines on headlamp & Tail Lamp make it look extremely stylish at night. I got myself Black colour which indeed suits this SUV really well. The interiors are loaded with features, it's better if you go to the Rexton website and go through them and I will mention the remaining features at the end of this review. My wife travels a lot in Innova as her company's transport facility and when we went for the test drive of Fortuner she could barely make any difference on interiors (No offense to Fortuner owners) and she always wanted me to buy Audi Q3 just because of the looks & interiors however My Idea to buy RX7 was to have a really SUV with good space.  Comfort: It can surely beat any SUV in comfort factor as it has excellent suspension though sometimes you feel they are really soft however I tried this SUV on Jim Corbett jungle drives and it supported really well and trust I didn't have to do much to control it as AWD and excellent suspension did an excellent job. All leather seats are extremely comfortable better than any SUV I have driven so far including BMW X1 which was terrible on a road trip. Yes If we talk about breaking it is very powerful however the soft suspension pushes little in front that makes you feel that brakes are not effective but in reality the brakes are excellent and you actually start enjoying that push once you get used to this SUV.   Pickup:  The only question that kept till the end in my mind after every test drive was the pick up better from its competitors or should I consider 8 seconds time for the total pickup time as it was an AT Diesel. The pick up isn't great for 1-2 seconds however it picks up really well in next couple of seconds. However, if you are in hurry then switching to manual mode takes care of that. This is one feature that can really fun if you wanna zip zap on Indian roads. You can switch gears like Playstation on your steering and have fun while beating others. It's not highlighted by the company on their website but it does bring a lot of fun to this SUV.  Mileage: I won't talk much about mileage as the first service is due on completing 10000KM which is kind of drop back in their service manual. So far I am getting 7-8 in City and 10-11 on highways. Best Features: Countless, however, my favourite are a big sunroof, memorised auto seats, manual gear mode, super advanced cruise control that can be set on incline/decline mode, you can speed up without touching your pedal. Don't need to set the speed again even when you stop completely just cross 40 press the Cruise control and it takes you back to the top speed you set. Highfi audio system, freaking automatic control for every setting you can think off. Once again there is no comparison when it comes to features with Fortuner or any other SUV.. Having said all this, this review is seriously for automatic buyers. If you are looking for Manual drive SUV look for some other review. You can't beat Fortuner manual with Rexton manual. So if you want an AT AWD like an Audi or BMW with all features, go for the Rexton RX7.   Needs to improve: Car keys, old model keys should have been a foldable key or I should say keyless start-stop would have been there, but not a big trouble as such. Overall Experience: So far amazing, once I cross 10K km would again review.
Write your Comment on Mahindra Ssangyong Rexton
1
A
anil kumar barma
Dec 29, 2018 8:08:48 PM
I use this Many cars but this car is very interesting car and so beautiful
Reply
1
A
anil kumar barma
Dec 29, 2018 8:06:19 PM
This is very interesting car and so beautiful and i very very like this car
Reply
1
N
nimisha
Jun 1, 2018 8:04:57 PM
My husband purchased this car few years back. I was totally against buying a least known brand. But after rough use for years, I must say, that this is best suv I have found. Very comfortable, feature loaded, easy to drive for anyone. Very reliable, no maintenance value for money car. Best decision to buy it.
Reply
Mahindra Ssangyong Rexton User Reviews
All (10)
Mileage (5)
Looks (6)
Comfort (8)
Engine (3)
Interior (2)
Power (2)
Price (5)
More ...
Before I proceed I would like to mention that I read almost all reviews & watched all videos of Rexton of all generations across worldwide websites and not just on Indian...Read More

Look and Style looks good   Comfort Comfortable Pickup Slow Mileage Poor Best Features Good highway drive Needs to improve   I bought this vehicle on May 13th 2013. Next ...Read More

I have been driving RX5 since last month...itz simply amazing...pick, drive, off road capabilities...everythingz amazing...definitely better than fortuner which i think i...Read More

Good styling and in some parts better than its competitions in this segment. This car will give tough competition to the pajero and fortuner as it has everything to attar...Read More

The Rexton is today perhaps one of the most underrated cars amongst is contemporaries ie Fortuner, Ford Endeavour & Mitsubishi's new Pajero. I have test driven on these c...Read More

 Experience has been absolutely horrible, to say the least. Bought RX5 variant on 25th august from Koncept automobile, Lajpat Nagar Delhi. The car began giving a rubber b...Read More

The car is very good looking and smooth driving and very comfortable sunroof also very good so that we look to outside pickup is very high almost rexton is very excellent...Read More

Purchased Rexton RX5 as the proud first customer from VVC motors in Jan 2012, problems started six months after the purchase. My clutch broke down four times in last 6 mo...Read More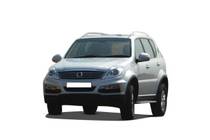 Rs. 21.04 Lakh - 24.84 Lakh*
This car model has expired