Hyundai Grand i10 Asta (O)
Hi,   Myself Manjunath, It gives me immense pleasure to let you all know that on 21/09/15 I have booked the Grand i10 Asta Petrol (O) and got delivery on 16/10/2016. So far I have driven only 3500KMs within City drive & one long route to Kerala and have already fallen in love with this car. My Needs: I was specifically looking for a city car for commuting to office. The distance being a mere 20 KM & once or twice a week with a diesel option was out of question. So, a hunt for a value for money petrol car started. Being a newbie driver I was pretty sure that I would not be able o figure out the enthusiast level niche points like turbo lags, flat spots etc. So, things I wanted to have were: 1. A budget of 7.05 lacs (On Road price). 2. Mostly to be driven within city for office to home commute (20 Kms two way) and most of the time would be occupied by 1 / 2 passengers. A full house (4/5 persons) would be only occasional. 3. Good mileage (This is my first car). 4. Good after sales service. 5. Lower cost of spare parts and maintenance cost. 6. Good contemporary exterior looks. 7. The dash board must look plush and classy. 8. I sort of preferred a light steering as I would 95% of the time use it for in city driving. 9. Features such as keyless entry, bluetooth and steering mounted controls were not my first and must have things, but always fancied them. 10. All four power windows. 11. Rear defogger at least as safety option. 12. Integrated ICE. I never liked the fit of the after market units. 13. Electrically folding ORVMs. 14. Rear parking sensors.   The Options considered: Swift: Definitely 'THE' market leader. So I had to consider it. On the plus side, excellent ASS, lower cost of spare parts, already tried and tested to the core mileage, drivability and handling. On the down side, it was an old model, I did not like the looks much, the plastic quality was good but not as plush as Hyundais, Did not come with an ICE except in Zxi, even the rear defogger was available only in the highest model. With ABS and Airbag, it crossed my budget pretty well. Plus it is an outgoing model. Ford Figo: On the plus side, fitted my budget pretty well, superb back seat space, stability of ride was superb, great fuel economy. On the minus side, poor dealership and ASS, high cost of maintenance and spare parts, not even the highest model had the basic features like rear power windows, not much features to thrill, the age old AC controls looked ugly, the dash board design was not something which I liked, odd placement of in car control buttons and stacks (I am not used to European spec'ed cars), the rear windows does not roll down beyond 60%, no steering control available even in the highest model.   Grand i10: On the plus side, excellent contemporary design, excellent petrol engine, easy and light steering, light clutch, butter smooth gear box, fantastic brakes, beautiful steering wheel, seamless dealership chain spread across city (in fact one within 2 Kms of my home), near by service station, hassle free Hyundai ownership experience as described by innumerable friends, low spare part cost, excellent mileage ratings for the petrol too, superb dash board styling fit and finish and plastic quality, nice instrument cluster and MID, height adjustable driver seats, tilt adjustable steering wheels, good suspension, good rear cabin space to fit in three moderate sized adults, segment best boot space, rear bench fold for cargo usability (no I am not a fan of 60:40 split), fancy features like smart key, key-less entry, integrated blinkers on electrically adjustable ORVMs, rear parking sensors, start stop button, bluetooth and steering mounted controls, decent ICE with 1 GB storage, rear aircon vents, alloy wheels, rear parking sensors, cooled glove box and many more. Most importantly all of these below an On road price of 7 lacs which fits my budget just right. On the down side, safety features as trivial as rear defogger and rear wiper available only in top of the line Asta, ABS and Airbag only available in Asta that too as Optional, no rear parking camera even in Asta variant, no elctrochromic rear view mirror, even the rear parking sensor is only audible and no visual aid, lack of ACC, poor rear speakers, no under cover for the engine.     The Decision: So, the choice was pretty obvious for me. Grand i10 was fitting my budget, needs and most importantly I was getting a overall complete package with all the necessary and fancy features all under the hood of a fresh new car on a brand new Kappa 1.2 fine tuned platform. What else any one can ask for?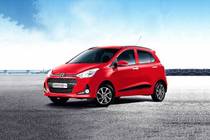 1 Offer
On Hyundai Grand i10 :- Cash Discount up t...
20 days left