Good and easy to drive car; but, battery failed in 19 days
I gave 10/10 to the sales person. Took delivery of the car on 20-4-2018 and found it easy to ride. Have not checked mileage yet. But, in 19 days, the battery completely drained and failed. It failed to start by 6.15 p.m. when I had my sister in the car. My colleagues pushed the car; still, it failed to start. Spoke to the sales person who forwarded the call to the service person and he assisted to register the complaint. But, the process of registering the complaint was too lengthy which tested my patience. After registering the complaint, received a call informing that the mechanic will come in one hour, followed by a call that he would deliver a vehicle and come to attend. I became furious and made a call to road recovery of the car which had response within 20 minutes. After checking, he connected the battery he brought when the car started. After 10 minutes of charge, he disconnected his battery and tried to start the vehicle which again did not start. Vehicle was towed down to the service station. The Coordinator confirmed battery failure, replaced the battery and delivered the car in the evening. While there was swift action of service, I am quite upset over the exide battery failure in a brand new vehicle within 19 days with 415 km ride. I still do not rule out electrical problem in the car which could have led to battery failure. Let me wait and see.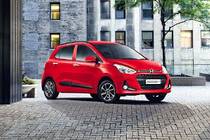 1 Offer
On Hyundai Grand i10 :- Cash Discount up t...
9 days left