WRV is the new Honda City competitor
I have test driven all the cars Breza, Ecosports, Nexon and finally WRV.
Breza-I did not like the design and the ease of driving. (looked like Box)
Ecosports- Best driving dynamics, feature wise everything great. Best car. Biggest drawback-Its a 4 Seater car ( not 5-for sure. I made my friends sit with me during test drive). I needed a spacious 5 seater car.
Nexon- Initially felt great with features. But later found the power ratio for the gears is not linear. Too much surge. Gear is so tall ( I recalled bus driver's gear which is so tall. That thought pissed me off). Also heard comments like tata cars are not great with service expenses after 5 years of driving.
Finally WRV- Most stylish and spacious car. Great features. Only car with a roof top in this segment.Currently getting mileage 23 kmpl in highways and 20 kmpl in city (after 2000 km driving). What more you need? Engine pull is so good and smooth. It has aluminum engines which is a Honda exclusive. Its second top selling car after Honda City now. Go for Deisel only.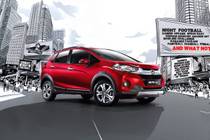 Rs. 8.08 - 10.48 Lakh*
in