Pro's of Honda Jazz,,,
I drive on an average about 60 Km every day. I might not be an Expert on cars, but here's my Review: The Honda Jazz VMT Petrol is nothing but amazing since the day i bought it. The " BHARAT HONDA GULBARGA" seems to be pretty genuine and does a good job of taking care of the cars. Well as much as i would like to give a perfect rating, I need to be completely neutral on my opinion, Hence i will need to highlight all the Pro's of Honda Jazz,,, PRO's: The Engine: (The Beast behind this Beauty) The BEST thing about this beast is its Sheer Performance ! Its nothing less than EPIC !!! You feel like you own a car worth 15 Lakhs or above for just 9 to 10 Lakhs. When you step on the Pedal, there is an instant amazing Gush of power that throws you back on the seat.There is instant power when you need it ! It has a Beauty of a 1199 CC Engine, But Honestly it feels like superb vehicle, I have personally taken this car upto 160 Kmph and kept it steady at those speeds for about 5 minutes. It still feels like i had so much power more to spare. The pedal wasn't even floored. (The reason i didn't want to push it further was because my car was Fully loaded to the brim with full passenger and luggage capacity) The Ride Stability Was AMAZING even at those speeds. And it felt like it was nothing to reach those speeds.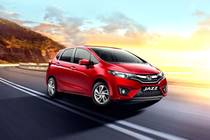 2 Offers
On Honda WR-V :- Cash Discount up to Rs. 2...
8 days left