Honda Civic 1.8 S M/T
Civic is fantastic all round car, especially for enthusiasts, with a high revving sweet engine, nice gearbox and good handling ad it's a good all rounder despite it having low ground clearance. Spare parts and service costs are also reasonably priced and Honda service is excellent.
Write your Comment on Honda Civic 2010-2013
1
U
uta troyke
Jun 19, 2012 3:06:58 AM
Der neue Honda Civic ist das beste Auto, das wir jemals gefahren haben. Er f?hrt wie ein Accord; ein Traum auf der Stra?e, exclusiv im Innenbereich und ausgetattet wie kein anderes Auto seiner Preisklasse. Die deutschen Autohersteller k?nnen hier nicht mithalten. Mit Honda, den wir seit ?ber 20 Jahren in verschiedenen Ausf?hrungen fuhren, hatten wir auch bei 100000 km nie eine Reparatur. Am Stra?enrand lagen dagegen bei unserem Kurzurlaub an den Bodensee drei neue Golfs. Reparaturen ohne Ende hatten auch unsere Freunde mit Golf, Opel und Mercedes. Honda ist wirklich sehr zuverl?ssig und macht einfach Freude. Uta und Wolfgang Troyke
Reply
1
a
amit
Jul 31, 2010 7:12:45 PM
Civic is good car i agree, but i also have problem of low ground clearance. The interior cloth of new civic i dont like, it gets really dirty and also the dryclean cost at service centre is 1500/-, better to put seatcovers instead as after one clean it gets dirty within 1 month again. I love the dashboard of civic the most stylish dashboard with digital odometer seperately mounted. Is there any solution to ground clearance problem ?
Reply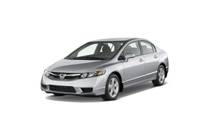 This car model has expired