Honda City ZX EXI superb car -great drive with More Comfort
The Honda City is truly a superb car. After much effort I was able to sell my Maruti Alto to a retired sells Officer in month of May at a loss of 40000. The pick up is great...Zoom it goes. I have tried a couple of other cars in the same segment, but the City ZX beats all. No wonder why you see so many Citys on the road. I?ve had mine for about two years now and the only little complaints I have are: * Low Ground Clearance- which means that the underside sometimes scrapes the many, huge speed breakers that proliferate Bangalore roads,
Write your Comment on Honda City ZX
1
S
sameer
Mar 30, 2013 9:28:38 PM
Very good car and i love it. good features. I am using CNG gives 18kms in mumbai. only low ground clearance, cant help. I am satisfied with car performance.
Reply
1
R
rais
Mar 30, 2013 9:25:03 PM
Great Car ..... I love it :)).
Reply
1
m
mohan
Jun 24, 2011 2:45:01 PM
Its a very good car and complete satisfaction. but very less ground clearnance and scratches many speed breakers in tamilnadu. My question is there any solution for stopping the entry of external air while driving even with internal ciruculation mode AC on. it becomes highly intolerable especially when you cross factories slums releasing bad odours
Reply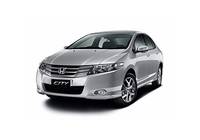 This car model has expired