milage is not good
Look and Style satisfacorty Comfort-ok Pickup-not good Mileage-15 kmpl mileage is not good Best Features-nothing Needs to improve-mileage and engine noise Overall Experience not good i purchase honda amaze 2 week ago but i feel milage is not good engine have high noise
Write your Comment on Honda Amaze 2013-2016
1
s
s.muralireddy
May 9, 2014 11:12:48 AM
I am using Honda Amaze Diesel car . My vehicle No AP26AW6666 THE VEHILE PROBLEMS ARE HIGH NO BODY BUY HONDA AMAZE VEHICLE. ELECTRICAL PROBLEBS COMING AND BREAK PADS ARE BAD. ENGINE NOISE ARE HEAVY PEROFANCE WISE VERY BAD.EVEN COMPANY NOT RESPONDINGLE WELL SERVICE WISE VERY VERY BAD.MY ADVICE VERY BAD VEHICLE IN THE MARKET.
Reply
1
a
ajay
Nov 7, 2013 12:31:27 AM
NVH level, Clattering & Mileage : if one drives in one gear for a long time. To reduce the NVH and clattering - RPM meter helps to reduce it by synchronizing the gears as mentioned below, you will feel the difference. It will also increase fuel efficiency. Initially you may find it hard, but once you get the hang of it, you will automatically reduce your acceleration and your car will automatically roll in one gear and eco lite will be constantly on. In this way your gear shifting will reduce. Focus a bit more on RPM and Eco Lite you will get the hang of it. When you shift to 1st gear you can pull your car to 1500 RPM. On 1500 RPM shift to 2nd gear. Then on every 2000 RPM change gear so you don't strain the engine. Only in climbing you can pull it to 2500 RPM. Most of the time eco lite will be on and average and engine life will be good and the drive will be very smooth.
Reply
1
s
shiron
Aug 23, 2013 10:23:54 AM
found the same engine sound while test driving.does it affect driving?
Reply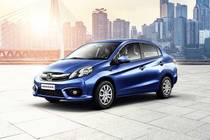 This car model has expired