Honda Amaze Diesel maintanace
Look and StyleLook Stylish Comfort Comfortable Pickup Less than dzire Mileage not sure Best Features Engine power Needs to improve Service cost to high Overall Experience Needs to improveHonda Amaze Service cost 4500rs approx after every 10000K.M or 6 month whicever comes earlier which i found is very high in comparison to Maruti(Dzire) & Toyota(etios). A person who dont drive even 10000K.M in a year has to go for service twice and shell out 9000 bugs for service which is higher than from competittors. More over mainatiance package from Honda what they call AMC is high it cost aprox 15400rs + service tax so naer about 16000rs for 40000K.M or 2 years i dont found any thing extra in this from ordinary service cost apart from few coupons which include wheelbalancing,inner cleaning ...etc,etc. Is Honda charging for their BRAND or is really worth dont know looking for othere review.
Write your Comment on Honda Amaze 2013-2016
1
k
karthick
Jun 18, 2015 7:59:41 PM
The initial cost of etios is far high with less features... Compared to amaze 8.5 lakh car.... Toyoya is selling 7.5 lakh worth car at 8.5 lakh and they tally remaining 1lakh by saying lesser service amount. Also etios pickup is like indica.... Very slow
Reply
1
a
ajay
Nov 7, 2013 12:48:43 AM
NVH level, Clattering & Mileage : if one drives in one gear for a long time. To reduce the NVH and clattering - RPM meter helps to reduce it by synchronizing the gears as mentioned below, you will feel the difference. It will also increase fuel efficiency. Initially you may find it hard, but once you get the hang of it, you will automatically reduce your acceleration and your car will automatically roll in one gear and eco lite will be constantly on. In this way your gear shifting will reduce. Focus a bit more on RPM and Eco Lite you will get the hang of it. When you shift to 1st gear you can pull your car to 1500 RPM. On 1500 RPM shift to 2nd gear. Then on every 2000 RPM change gear so you don't strain the engine. Only in climbing you can pull it to 2500 RPM. Most of the time eco lite will be on and average and engine life will be good and the drive will be very smooth.
Reply
1
s
satya ranjan mohanta
Oct 8, 2013 2:55:40 PM
Yes i agreed, i think its a question to everyone's mind before buying any car.
Reply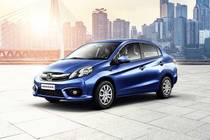 This car model has expired