Best Sedan in this class
Look and Style: Great look compare to others in same catogary. Well designed sedan which is having length less than 2 meters.Comfort: Great leg room space. Fronst seats are okay. Rear seats are well designed and comfortable. Luggage space is neither small nor big. But sufficient to small family use.Pickup: Thanks to 1498 cc engine. Pickup, power are great. Also fills like overpowered engine for this car.Mileage: Got average 22kmpl mileage for first 1500km run. Best Features: Engine pickup, power, design. Needs to improve: Needs to reduce engine nose. Some of accessaries cost is 3 times that of Dezire. Diesel car needs servicing after every 6 months. Thus increasing mainetance cost. Overall Experience: Amazing
Write your Comment on Honda Amaze 2013-2016
1
a
ajay
Nov 3, 2013 12:55:58 AM
NVH Level : RPM meter helps in Synchronizing the gears, so that you get maximum fuel efficiency. When you shift to 1st gear you can pull your car to 1500 RPM. On 1500 RPM shift to 2nd gear. Then on every 2000 RPM change gear so you don't strain the engine. Only in climbing you can pull it to 2500 RPM. Most of the time eco lite will be on and average and engine life will be good. People talk about high NVH level and the drive is very smooth. People who say NVH is high well they are idiots I have never heard high NVH so no complaints so far.
Reply
1
h
hemanshukher
Jun 4, 2013 5:14:30 PM
Hi Sunil, Could you please let me know what average does it give while running within city with A/c? And also which accessories are you talking about? How much cost does the service takes on average? It would be really helpful, as I'm planning to buy this car.
Reply
2
S
sunil
Jun 5, 2013 2:44:36 PM
In city like Pune, I am getting around 20kmpl with a/c. As I have purchased Ex Diesel model, need to get some accessaries for my car. For wheel caps honda Amaze cost you around Rs8500. While for Maruthi Dzire in outside market, they are available at around Rs1500. For Front glass 3M glass filming honda amaze cost me around Rs9500. For Dzire, it is much cheaper. For central lock cost me around Rs6500. Best way is purchasing accessaries in outside market which are not linked with car warranty.
Reply
1
A
aswin
May 31, 2013 6:51:23 PM
Hi is the engine- noise problem only in the diesel version or even in the petrol version....? Though i' m new to automobiles , i know usually diesel engine is bit noisier than petrol. Can you please tell me specific comment on petrol , would be really helful Thanks.
Reply
2
S
sunil
Jun 4, 2013 12:08:23 PM
Yes Diesel engine is noisy than petrol engine. But compared to fiat diesel engine which is used in Dzire it looks more noisy. Honda petrol engine is well refined and ahead of others like Maruthi. Noise level is very less for petrol.
Reply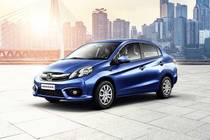 This car model has expired