Best car in this segment.
I am an owner of Honda Amaze sedan and i have clocked around 10K on my car. I am sharing my personal experience about this car. Look and Style: Not very eye catching but not very conservative either. Looks really nice at the back. Tail lamp looks good at night. Comfort: Awesome comfort for the driver as well as others. Amazing space. One should expirence it. Pickup: Very good except in 2nd gear. This is bcoz since most of them tend to upshift early without reving the engine. But once it goes above 2000 RPM, it is a delight to drive. u can actually fell the pull right away. I could easily beat the VW Polo, Dzire in terms of pickup Mileage: Clear cut - 20KMPL with speed 100-145KMPH, 22KMPL with speed 80-100KMPH, 24 with speed around 80KMPH [With AC] Best Features: None, coz i didn't find any special features in Amaze that is not present in its competitors. Needs to improve : On the features side, Bluetooth conectivity, CD Drive, Automatic climate control. Interiors need to be improved in terms of more features. Even the lower end hyundai car offers more interior features than Amaze. Overall Experience: I mostly drive on highway so i am very satisfied with the handling of the car. Engine is a bit noisy when compared to others. On a broken road chances of car nicking the ground in front is more. Should have had more ground clearance in the front. Overall build quality is good. Really spacious. 
Write your Comment on Honda Amaze 2013-2016
1
p
puneet
Dec 11, 2014 1:44:28 PM
Shhshsjsjsjsjsjjsjshshshs
Reply
2
p
puneet
Dec 11, 2014 1:44:37 PM
Hshdhsjxhjxjxjx
Reply
3
p
puneet
Dec 11, 2014 1:45:11 PM
Reply 2 reply vvvvvvvvvvv
Reply
4
p
puneet
Dec 11, 2014 1:45:31 PM
Gggghhhhhhhhhhhhh
1
A
avinash
Nov 4, 2014 12:15:15 AM
I want to purchase Amaze SX-IDTEC or Swift Dzire ZDI .. Please suggest which one to buy ..
Reply
1
s
shailesh gang
May 11, 2014 2:02:25 PM
what is the avg for amaze basic petrol version? is it 20 kmpl?
Reply
2
r
rahul
Mar 29, 2015 1:07:29 PM
It is 18.0 kmpl. Thanx
Reply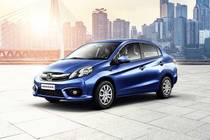 This car model has expired