Amazing Mileage
I bought this amaze SMT BLACK 3 weeks back and Im happy with my decision. I drove it in highway and i got an average of 25KMPL for 170KM trip. For first 14 KM i received an amazing mileage of 34.8 KMPL(Even HONDA might not know. I can send you the pictures which I took). Overall I'm happy with this car. Overall handling is very good, comfort is good, HONDA need to work a little bit on the engine noice. Third gear is bit rough and rest all gears are fine. Pickup is excellent and you will love the overtaking. It is must to buy an steering grip ( Steering grip is very bad) AC is very powerful. Boot is really amazing. First gear is short, powerful comes the second and third. 4 and 5 designed only for speed. Vehicle designed keeping indian traffic in mind, which gives an astonishing mileage of 18 in city. You dont need an acceleter in city driving, the ideling itself takes care of the speed you need in city limits which boots your mileage. write to me @ rockingraghav84@gmail.com
Write your Comment on Honda Amaze 2013-2016
1
A
ajit
May 30, 2015 11:47:00 AM
I am using Amaze smt petrol I am only getting mileage of 9.3 in city I am done with first service. Any idea about this Olumpia Honda showrooms / service center engineer says it will be fine after 2 or 3rd service...
Reply
1
m
manohar
May 27, 2015 12:43:35 AM
Good Diesel car.... .I feel in a month
Reply
1
a
ajay
Nov 3, 2013 12:51:09 AM
NVH Level : RPM meter helps in Synchronizing the gears, so that you get maximum fuel efficiency. When you shift to 1st gear you can pull your car to 1500 RPM. On 1500 RPM shift to 2nd gear. Then on every 2000 RPM change gear so you don't strain the engine. Only in climbing you can pull it to 2500 RPM. Most of the time eco lite will be on and average and engine life will be good. People talk about high NVH level and the drive is very smooth. People who say NVH is high well they are idiots I have never heard high NVH so no complaints so far.
Reply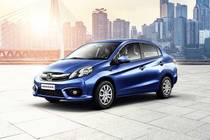 This car model has expired