amazing amaze
Look and Style is good nd very good for those who got board from look of swift as swift see very often on road.... Comfort is nice feel good while siting on car.... Pickup is way beetter than swift nd disire nd feel punchy... Mileage not say now... Best Features pickup nd mileage as company clame... Needs to improve interior Overall Experience very good ,nd car not make noise that much as people writing on there revies ,i took test drive two time slightly noise at 40-50 speed but not that much...
Write your Comment on Honda Amaze 2013-2016
1
a
ajay
Nov 3, 2013 1:13:06 AM
NVH Level : RPM meter helps in Synchronizing the gears, so that you get maximum fuel efficiency. When you shift to 1st gear you can pull your car to 1500 RPM. On 1500 RPM shift to 2nd gear. Then on every 2000 RPM change gear so you don't strain the engine. Only in climbing you can pull it to 2500 RPM. Most of the time eco lite will be on and average and engine life will be good. People talk about high NVH level and the drive is very smooth. People who say NVH is high well they are idiots I have never heard high NVH so no complaints so far.
Reply
1
S
s.balakumar
Apr 20, 2013 9:14:59 AM
I agree up on Sahil comments !!! Should they look out for wider service network to compare with D zire .
Reply
1
v
vijay
Apr 14, 2013 10:44:13 PM
Suspension is very bad at the rear end.Three people at the back seat along with luggage in the boot ,I don't think so the suspension can handle it. Also the rear seat can seat only two adults comfortably.Rest everything is ok.
Reply
2
s
sahil
Apr 15, 2013 12:49:33 AM
it's just ur opinion dude u not done this things practicaly....what i feel while driving d amaze that what i writen in my review....2nd thing is that i saw no. of people want 2 knw that is realy d engine of amaze noisy ? the ans is yes but realy not considerable ....a/c is much powerful than any other car in this segment.... .fuel economy is best in it's class...look is also gud....yes need to improve the interior....pickup is best as 1500 cc @ 3600 rpm....
Reply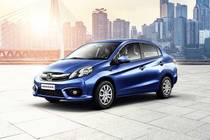 This car model has expired