Amaze is Allrounder
Look and Style Fresh and excellent compared to Competion Comfort Good but not excellent, seats could have been platform being a Wagon R user Pickup Very good but if you try to pick from light gears it takes time Mileage Excellent, drove from Chandigarh to Jammu over weekend (morning 5:30 - 11:45) 340 kms with AC, it churned out 26+perkmpl. I drove at 80kmph. In city it is giving around 16-17 with worst climate conditions with AC Best Features Seat height adjust, mileage, power, looks, Boot space Needs to improve Should have more features in S variant from V, Should have tinted glass, bluetooth, Rear parking sensor, bigger glove box and more spaces for knick knacks and bluetooth Overall Experience I am quite happy with what I have got, lucky to be the first few to drive this car, booked in prelaunch and got in a month.
Write your Comment on Honda Amaze 2013-2016
1
a
ajay
Nov 3, 2013 12:54:47 AM
NVH Level : RPM meter helps in Synchronizing the gears, so that you get maximum fuel efficiency. When you shift to 1st gear you can pull your car to 1500 RPM. On 1500 RPM shift to 2nd gear. Then on every 2000 RPM change gear so you don't strain the engine. Only in climbing you can pull it to 2500 RPM. Most of the time eco lite will be on and average and engine life will be good. People talk about high NVH level and the drive is very smooth. People who say NVH is high well they are idiots I have never heard high NVH so no complaints so far.
Reply
1
R
rishi mohan
Jun 8, 2013 11:15:10 PM
Nilesh, Amit, Rakesh....can anyone pls tell me how is the performance of ac...have booked this car, but during test drive was quite disappointed with ac performance...Inputs will b really helpful in final decision.
Reply
2
A
amit mahajan
Jun 9, 2013 2:34:07 PM
Don't worry it works quite well, even in worst of conditions it makes you comfortable in 5 minutes, infact I compared that with Duster owned by my friend and its better than that. Moreover with Monsoons coming AC would work double fast.
Reply
2
R
rakesh
Jun 10, 2013 5:17:12 PM
AC is fantastic. no problems at all. FANTASTIC !!!!!
Reply
2
R
rakesh
Jun 21, 2013 2:30:56 PM
hi Rishi, can u share ur email id with me... im trying to make a club of all diesel owners of amaze....pls join
Reply
1
n
nilesh
Jun 4, 2013 4:32:00 PM
hi, congrats, how about the engine nosie? i am planning to book disel one tomorrow , can you share your contact details.
Reply
2
A
amit mahajan
Jun 4, 2013 9:42:40 PM
At speed 40 very less noise is there, at less than that no need to worry if music system is ON, anyway not that significant to worry.
Reply
3
R
rakesh
Jun 5, 2013 6:49:45 PM
hi amit..can u pls share ur email address...mine is rakesh6882@gmail.com . I own a SMT Diesel AMAZE. currently i have driven 545 kms in city traffic with ac on...i have got 17.5km/l as per dash board meter reading.... pls reply
Reply
4
A
amit mahajan
Jun 5, 2013 9:49:44 PM
Well, trip meter may not give correct reading in city conditions, atleast not in my case, best option would be full to full tank check, in city conditions with this worst weather anything in range 17-20 would be great
5
R
rakesh
Jun 10, 2013 5:18:15 PM
hi amit, can u share ur email id with me... im trying to make a club of all diesel owners of amaze....pls join.
2
s
sahil
Jun 5, 2013 1:27:19 AM
yes amait is right at 45-50 speed it's noises but realy not that much...if honda car(amaze disel) noises little bit it become too noisy for people becoz of brand value...
Reply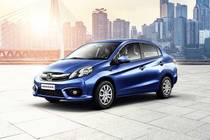 This car model has expired