TRUE VALUE FOR MONEY
Look and Style I purchased Ford Figo Diesel Titanium a month back and I find it as true value for money car. Ford has given decent looks and perfect appearance to this car. Comfort The car is good from the comfort point of view but the leg room is less in comparison to other cars as it becomes bit conjusted when three people sit at the rear seat. No doubt the quality of fabric used in Ford Figo is good. Pickup Pick up is excellent, the car zooms when accelerated in 1st gear, acceleration of this car is very impressive. The 4 cylinder engine is superb and gives a feel of sports car. Mileage I never expected that a Ford car can give impressive mileage of 14-15 km/l in city and around 19 km/l on highways. Best Features Its Adjustable and power steering, Powerful AC and Silent Diesel engine. Needs to improve Leg room space. Overall Experience My overall experience with Ford Figo has been good. My monthly running is around 1000-1500 kms and the car's performance has been up to the mark. Initially people suggested me not to go with Ford Figo due to certain misconceptions but now I think that my choice was right and would also recommend to all those buddies who look for true value for money car.
Write your Comment on Ford Figo 2012-2015
1
S
sajith
Dec 9, 2010 10:57:14 PM
I think punto diesel 90hp is the best in this class. I own i20 diesel asta, I feel that I took a bad decision :( My brother bought punto 90hp diesel 3 months back, it is bit costly but REALLY REALLY worth you will fall in love with that no doubt.
Reply
2
g
gokul
Dec 29, 2010 7:07:55 AM
wake up sajith! this thread is about figo.
Reply
1
R
r.srinivasan
Dec 9, 2010 12:11:42 PM
figo diesel does not give a mileage above 15
Reply
2
S
saran
Dec 9, 2010 1:08:36 PM
drive it carefully dude...
Reply
3
A
abhishek
Dec 9, 2010 3:50:52 PM
Really...nonsense driving gets the mileage down. Drive comfortable without any hurry and it would give you a 17km/ltr Diesel in City with AC. The use of Clutch and Brakes mostly reduces the mileage. Use brakes without using Clutch and try to switch off your engine in signals and woalla...you would find it even better.
Reply
3
b
bobby pathak
Dec 10, 2010 8:35:39 AM
i think this sri must have forgotten to press the accelerator ...
Reply
2
R
romeo
Mar 26, 2011 5:36:02 PM
15 for half litre is good...
Reply
1
s
srinivasan
Dec 9, 2010 12:10:41 PM
How is the quality of plastic ? how are the trims? park it in sun for a week and see the difference. Ford need to go a long way to improve the finish /aesthetics. I have bought Figo diesel in June,2010 and do not find the finish quality good.
Reply
2
S
saran
Dec 9, 2010 1:18:43 PM
1) no one is going to park it in sunlight for one week. 2) you cannot expect more for 5 lacs (refer point No.1) 3) you cannot expect a pearl white finish with golden trim interiors along with readily packed pasta Italiano with meat sauce either.
Reply
3
b
bobby pathak
Dec 10, 2010 8:29:02 AM
i think sri u dont need a car u need a brain surgeon...figo is the best car in its segment ...and its not maruti su su ki or tata and bata...its FORD u dumb fellow...there's nothing wrong with its plastic...i park it in sunlight daily...its AC is vvvvvvery powerfull ...u get a music system with power windows...colorfull dash board...384 ltrs of boot space ...solid pickup...a midsized car .. which means not teeni mini like ritz, i10,santro,spark,beat etc...fully loaded and in 5 lacs...what?? u want BMW in 5 lacs?? #$%#$%#
Reply
2
V
vishwanath
Dec 15, 2010 11:01:48 PM
I agree that the material used for the dashboard looks crude and rough. But for this I loved everything about this car. It is spacious, has excellent ride quality great pickupand a very silent diesel engine. I get 12.5 in Bangalore city traffic and got 18.5 on a recent trip to Ooty, and I always keep the AC on. I have logged 2800 kms in three months and my experience during my visit to Metro Ford for service was quite good after enduring my bitter experience at TAFE Access to service my Skoda Laura which is my other car.
Reply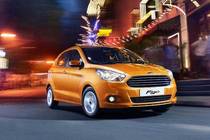 This car model has expired