Pleasurable ride with FORD FIGO
Look and Style Hey guys two months ago, I bought Ford Figo Diesel Titanium. The car has come as a complete satisfactory car for me. Front look of the car is decent but the rear looks are not too stylish. I think if company plans to come with any new model of Ford Figo they should change the tail lamps and increase the size of rear bumper to give it more sporty look. Comfort From the comfort point of view, Ford Figo stands as a true value for money. Five people can easily adjust in the car. There is ample of Legroom at the rear space and three people can easily adjust. Pickup The diesel Ford Figo has got an excellent pick up and acceleration. The 1.4 l engine is very silent and smooth. Mileage Mileage of the car is around 14 kmpl in town and around 17-18 kmpl on highways. Best Features ABS and Powerful Acceleration are impressive. Needs to improve Rear looks . Should also be available in alloy wheels. Overall Experience So far the experience with the car has been fantastic. The diesel engine is efficient, silent and powerful too. The car has got wide range of features available.
Write your Comment on Ford Figo 2012-2015
1
d
dr. sandeep bansal
Jan 18, 2011 3:46:27 AM
hi. on first look the looks of exterior is ok. back and side view feels like an old car.when i first sat inside did not get the feel of a new car. designing and plastic gives an old look. stereo integrated feels very simple although feature wise it is good. on startng car there is nose which u feel inside car. drivin,manoverbility,pickup good.boot space and leg room very good.Overall for sonmeone who is buying first car it is good. but for a second car buyer,needs to look fr another car.i took test drive,do not own car,lastly in punjab service back up structure is an issue.
Reply
1
J
jk naidu
Dec 23, 2010 4:12:20 PM
The Gap between Front Tyre and Mudflap is more. Reduce the gap or make the mudflap more flexible like rubber sheet type.I dont know why Ford is ignorant abount it.Over all My experience if good except minowr issues like Lighting,Mud Flaps and Major issues like Low ground clearance. ittle improvement on suspension front will help improve the satisfaction levels. Pick up,Mileage ,Appearance,Space manamement,Leg room & Boot is excellent. I recommend strongly to opt for ths CAR which is definetly Value for Money.
Reply
1
J
jk.naidu
Dec 23, 2010 4:01:10 PM
Hi I live in Bangalore. Bought Figo Titanium Diesel on 30/06/2010 and driven 14500 km sofar. I have mixed experinces. 1. Mileage - 13 km in city 2. Highway - 17 - 22 (maintained min 100-110km speed from Nellore to Guntur on Express highway and checked mileage is 21km) 3.Pick up is very good.slightly better than swift diesel.Stability on highways is superb. 4.suspension is not satisfactory. Because of low ground clearance impact is very high. 5.Very Bad lighting. Need a lot of improvement on this front. 6.NO Powerwindows for rear seats is a minus point. 7.Very good Boot space and leg room.I get almost like sedan feel. 8.Front MUDFLAPS are not designed well. Every hump will cause damage to mudflaps. Sofar I have spent 1900/- for 3 sets.Irony is that I had to shell out money for full set of mudflaps of 4 nos. I have 3 sets of rear mudflaps. Any one need can contact me on 9538666777.
Reply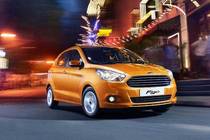 This car model has expired